STORY
Supplier Showcases visit campuses in September
Discover new tech, products, services at three campus events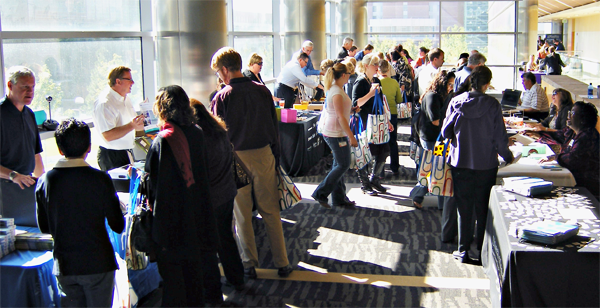 CU's 11th annual Supplier Showcases are set to get underway in September, with dates scheduled at CU Boulder, UCCS and CU Anschutz. Presented by the CU Procurement Service Center, this series of events provides unparalleled opportunities to meet with suppliers, and to connect with PSC staff, CU system departments and campus departments.
Event sponsors Staples, Dell and The Parking Spot will be featured, along with many new exhibitors. Many of the CU Marketplace catalog suppliers will be present as well. Discover new technologies, products and services from a wide variety of suppliers.
PSC staff from Payables, Travel, Purchasing, Contracts, Small Business, Marketplace, Commercial Card, and Concur will be available to discuss any procurement topics. Representatives from Finance, Sustainability, Risk Management, Ethics, and Policy & Efficiency also will have tables at these events.
The schedule of events is:
CU Boulder
Coors Event Center, Upper Gym
10 a.m.-1 p.m. Thursday, Sept. 8
CU Anschutz Medical Campus
RC2, 2nd Floor, Krugman Conference Hall
9:30 a.m.-1 p.m. Thursday, Sept. 15
UCCS
University Center, Berger Hall
10 a.m.-noon Thursday, Sept. 22
Click here for more information and to register.