STORY
Supplier Showcases turn 10 in September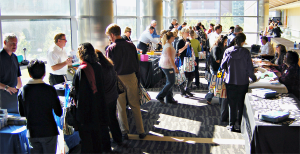 The Procurement Service Center (PSC) proudly announces the 10th anniversary of Supplier Showcase. All CU faculty and staff are invited to attend the systemwide series, which provides the opportunity to meet potential new suppliers and personally greet existing suppliers.
First-time exhibitors include Light Labs, Denver Boulder Couriers, Denville Scientific, Buehler Companies, Hyatt Place, Crested Butte Mountain Resort, and BioMedical Solutions Inc (BSI).
Showcases are popular because they provide an easy way to learn about new technology and gather free samples of new products. PSC staff will be available to answer your questions about fiscal procedures, travel rules, Marketplace and Concur. Stop in to visit with staff from Controller's Offices, Policy and Efficiency, Internal Audit, Risk Management, Sustainability, FinPro Help Desk, and the Elevate Project.
Showcase sponsors Staples, Dell, The Parking Spot, and Xerox will be featured at each event, along with representatives from Colorado Correctional Industries (CCI) and Christopherson Business Travel.
Register now to join the more than 1,200 CU employees that are expected to participate. Registration and Exhibitor List can be found at: https://www.cu.edu/psc/2015-psc-supplier-showcases
Questions? Contact Penny Davis: penny.davis@cu.edu
CU-Boulder: 10 a.m.-1 p.m. Sept. 3, Coors Event Center Practice Gym
CU Colorado Springs: 10 a.m.-noon Sept. 30, University Center, Berger Hall
CU Denver l Anschutz Medical Campus: 9:30 a.m.-1 p.m. Sept. 17, Research Center 2, Krugman Conference Hall