STORY
Supplier Showcases continue this week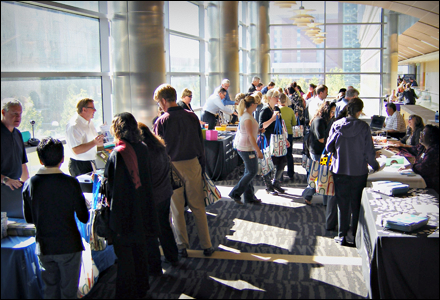 The Procurement Service Center (PSC) is hosting the ninth annual Supplier Showcases, your opportunity to discover potential new suppliers and connect personally with current suppliers. All CU faculty and staff are invited to attend this systemwide series, which began this week in Boulder. The next event is Sept. 11 at UCCS.
First-time exhibitors include Instrument Rental & Calibration, Einstein Bros Catering, Halo Branded Solutions, Macherey-Nagel, Levy Restaurants, Midland Scientific, and Staybridge Suites Air Force Academy.
The showcases present a venue to see new technology and gather free samples of new products. PSC staff will be available to answer questions about fiscal procedures, travel rules, Marketplace and Concur. Stop in to visit with staff from the Controller's Offices, Policy and Efficiency, Internal Audit, Risk Management, Sustainability, FinPro Help Desk, and the PeopleSoft Upgrade Project.
Showcase sponsors Staples, Dell, the Parking Spot, and Xerox will be featured at each event. Representatives from Colorado Correctional Industries (CCI) and Christopherson Business Travel also will be in attendance.
The remaining schedule:
UCCS: 10 a.m.-1 p.m. Sept. 11 at University Center, Berger Hall
CU Denver l Anschutz Medical Campus: 9:30 a.m.-1:30 p.m. Sept. 17 at Research Center 2, second floor Trivisible Room, CU Anschutz Medical Campus
Register now to join the more than 1,200 CU employees who are expected to participate. Registration details and a list of exhibitors is available here: https://www.cu.edu/psc/2014-psc-supplier-showcases
Questions: Contact Penny Davis, penny.davis@cu.edu, 303-764-3445