STORY
Students volunteer at National Western Stock Show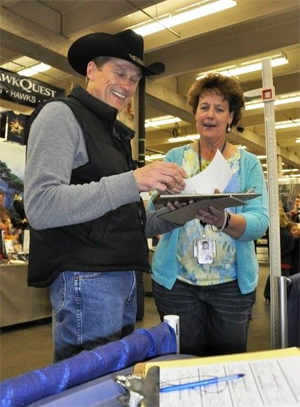 Student and faculty volunteers from the University of Colorado Anschutz Medical Campus are providing free screenings at the National Western Stock Show (NWSS) this year. With two-thirds of Colorado considered rural or frontier regions, attendees who farm and ranch are a population often difficult to reach because of both the nature of their professions and their self-employment often leading to scarce insurance coverage.
"CU Anschutz and our students are committed to serving and working with rural and mountain communities, as well as building a Colorado workforce in underserved areas," states Jennifer Hellier, Ph.D., Director of Colorado Health Professions Development Program (CO-HPD) at the University of Colorado Anschutz. "The stock show provides the perfect setting to educate hard working individuals from rural communities on their health and gather data about their lifestyle, so we can best prepare our students to serve these communities."
The Colorado Area Health Education Center (AHEC) program office sponsored a large health-screening booth with different stations at the NWSS, where the team checks participants' body mass index (BMI), blood pressure, and blood glucose levels. Individuals will be screened to ensure they had their annual primary care exams and necessary screening tests such as cholesterol, colonoscopies, mammograms, and breast exams. A new addition to the Program's screening includes an Influenza vaccination and a heartburn screening corner, also provided free of charge to all participants.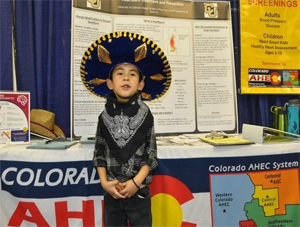 For children between ages 2 and 18, there was an interactive program called Heart Smart Kids. This was used as an opportunity to educate children and their parents about making good diet choices and healthy lifestyle changes before bad habits become a problem.
Last year, over 200 volunteers provided 1,272 hours and screened 1,438 individuals between the ages of 18 and 89, and 1,019 children between 2 and 18 years old. Volunteers come from multiple schools and organizations across campus including Medicine, Physician Assistants, Pharmacy, Nursing, Physical Therapy, Dental, Create Health Scholars (CHS) and Pre-pharmacy students.
The National Western Stock Show continues through Sunday.
For more information on the Colorado Area Health Education Center (AHEC) program or to speak with Dr. Hellier or a volunteer, please call Ryann Nickerson at 720-726-0378.
Jennifer Hellier, Ph.D., is also an Assistant Professor at the Departments of Family Medicine and Cell and Development​al Biology at the CU School of Medicine.