STORY
In State of Campus address, Marks envisions 'elite tier' status
Lilly Marks, vice president for health affairs at the University of Colorado and vice chancellor of CU Anschutz, challenged campus leaders to aim even higher as an academic health center known for its quality, scope and impact of its teaching, research and clinical programs.
"By any measure we are ranked in the top 20 to 25 programs in the country in each of our mission areas, but in truth I don't believe we are in our future yet. We are on the threshold," Marks said in her State of the Campus address. "Our time is now, and this will require discipline, vision and the relentless pursuit of excellence. That requires top talent and top leadership."
The campus is at an inflection point, she said. "I believe that we are in a position where we can and should set the goal of moving from the top tier to the elite tier of academic medical centers."
About 150 people attended Marks' presentation in the Hensel-Phelps Auditorium at CU Anschutz on Monday afternoon. CU Anschutz Chancellor Don Elliman joined her in the hourlong presentation, introducing Marks as a visionary leader who has guided the campus to the top tier in academics, research and clinical care. "I think everyone in this room is well aware of the enormous contributions Lilly has made and continues to make to this campus," he said. "She's going to continue to be a partner for me and for all of you in the days ahead even if she does reduce slightly her days of effort."
Last month, CU President Bruce Benson announced that he had discussed with Marks her decision to transition into a role that allows her to remain involved in the strategic direction of CU Anschutz. Marks will remain in her dual role of executive vice chancellor of the CU Anschutz Medical Campus and vice president for health affairs until Jan. 1. After that, she will continue as vice president for health affairs with a focus on the broad issues facing the campus in the changing health care environment.
Marks told the audience that she has three new grandsons, all born within the last year, and that "I love what I do, but I'd like to do a little less of it. A mere 40 hours a week would actually feel like a vacation," she said.
'Extraordinary progress'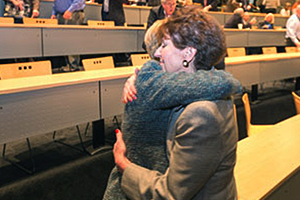 Marks began her presentation by painting the financial picture—specifically the key revenue drivers at CU Anschutz. While the campus is slated to receive $70 million in state funding for fiscal 2015—a 7 percent increase over last year— most of the revenue continues to be clinical care ($642 million in fiscal 2014) and research awards ($423 million).
CU Anschutz continues to thrive in its key missions of research, education, clinical care and community outreach. Despite a turbulent funding environment—including automatic federal budget cuts and last year's federal government shutdown—CU Anschutz received an increase of 4.6 percent ($11 million) in federal research awards. During 2014, total research awards increased 8.5 percent and industry awards climbed 17 percent. Over the last two years, more than 65 grants of over $1 million each were awarded to CU Anschutz faculty.
In the past year, Marks said, the campus generated 97 invention disclosures, 150 filings of U.S. patent applications, 27 patents, 20 licenses and options and 10 startup companies.
"This is extraordinary in terms of a single year's progress, but we believe there is much more opportunity to be mined," Marks said. "While the key driver of success is the work of our faculty, it's really incumbent on our administration to make sure our research infrastructure is capable of supporting and enhancing our research efforts, and we haven't done as good a job at that as we should and you deserve."
To improve, she said, the campus added key personnel to the areas of grants and contracts (Amy Gannon), biotechnology relationships (Steve VanNurden) and CU Tech Transfer Office (Kate Tallman).
Marks said the "new normal" for academic health centers is a shifting landscape of uncertain funding along with constant changes in the health care market, technology and workforce. The flux in the health care market is especially dramatic, she said, resulting in reduced provider reimbursements and marginalized high-cost providers.
Creation of the University of Colorado Health system "was the right strategic move" given the market imperative, Marks said. "Now we need to carefully establish the role and importance of a university hospital and an academic facility and its missions," she added. "... Our hospitals and our physicians must also pay increased attention to redefining the entire health care delivery system with a greater focus on quality, safety, outcomes and value-based care, and building expertise in population health and evidence-based care."
Building state's health care workforce
She noted that another major part of CU Anschutz's mission is being the primary educator of Colorado's health care workforce. CU is keeping apace by adding a branch of the School of Medicine in Colorado Springs, increasing the school's class size by 15 percent. With the launch of the CU South Denver facility, the Colorado School of Public Health has grown while the College of Nursing expanded its BS program by 30 percent. Meanwhile, after a physical expansion in 2012, the School of Dental Medicine has increased enrollment by 54 percent.
The bioengineering program continues to see growth with the addition of an undergraduate program, she said. The program will reside in the Bioscience 2 building currently under construction. Also, this year more than 3,300 nursing and public health students are taking online courses, and the Skaggs School of Pharmacy and Pharmaceutical Sciences this fall launched the world's first accredited international trained PharmD program and enrolled students to the online program. Massive Open Online Courses (MOOCs) are going strong, highlighted by Dr. J. John Cohen's Mini-Med School course that started in September and is educating thousands of people from over 100 countries.
"Perhaps one of the most exciting new areas of campus emphasis is how we've transformed our research and clinical programs in an era of big data," Marks said. One of the greatest accomplishments of the past year, she said, was uniting CU Anschutz's institutional partners to create and fund the development of a bioinformatics infrastructure and to build the Center for Biomedical Informatics and Personalized Medicine.
"Bioinformatics and the promise of personalized medicine is rooted in the ability to harness the billions of pieces of research and clinical data that have emerged and allows us to correlate and connect the dots between all the data in ways that will lead to medical care that is more preventive, predictive, precise and personalized than it has ever been before," Marks said. "This field is in its infancy but the real players in academic medicine in the future will be those who master its science and delivery."
In the past eight months, she said, CU Anschutz, working with a coalition of campus partners—the University of Colorado Health system, University Physicians, Inc., and Children's Hospital Colorado—and a trio of large donors, has raised nearly $60 million toward the bioinformatics effort.
'Much work to be done'
With greater than two-thirds of CU Anschutz's grant funding coming from the distressed federal sector, Marks said, the need to diversify the campus's research program and portfolio, and enhance activities with industry, foundations and tech transfer "really rose to center stage" this year. The campus has seen a 28 percent increase in philanthropic gifts since 2011. "The reality is there is much work to be done," she said. "This doesn't reflect the true fundraising opportunities of a major academic health center such as ours."
CU Anschutz leadership is making strides in collaboration with campus partners to address space issues, Marks said, but more work needs to be done to improve community outreach and contributing to the health and economic well-being of campus neighbors in Aurora. "We should be a leader in this area, given our missions and expertise."
To improve outreach, CU Anschutz has launched Colorado ECHO, which is based on a University of New Mexico effort that improves the capacity of the statewide health care workforce via technology and the expertise of university faculty. The campus is also making strides with its Community-Campus Partnership and internal community building efforts, which include the annual CU Anschutz Block Party and other events.
Marks said she and the campus have benefited greatly from stable leadership over the years. While recounting some of the leaders who have helped CU Anschutz become a top-ranked academic health center—the campus "has been blessed" to be guided by Dr. Richard Krugman, the nation's longest-serving medical school dean; Bruce Schroffel, former CEO of University of Colorado Hospital and University of Colorado Health; and the late Dr. Chip Ridgway, longtime head of the Division of Endocrinology in the School of Medicine, among others—Marks turned her eyes to the immense promise the future holds.
While CU Anschutz continues to lead, adapt and thrive, the campus will only grow stronger with the new perspectives, vision and talents of new leaders, she said. A campus this large, diverse and dynamic requires many types of leaders.
'Everyone must play a role'
"Everyone can and must play a leadership role in some fashion, be it as research leaders, a service leader, a leader in innovation," she said. "As we confront a future laden with change and challenge I encourage each of you to consider how you can contribute to moving this incredible campus forward."
Marks thanked all who have helped her learn about the campus's complexities and nuances, allowing her to "hold its beating heart in my hands." As of Jan. 1, the rhythm of the campus will be guided at the top by CU Anschutz Chancellor Elliman. "I've had the pleasure of working with and getting to know Don well over the last couple years," Marks said. "I know how deeply he cares about this campus and how committed he is to helping it succeed."
Emotion welled up in Marks' voice numerous times, especially when she reflected on her almost four decades of service on the campus. She emphasized that this is not goodbye.
"I'm not sure that I'd ever be successful in retirement," Marks said before concluding her talk and receiving a lengthy standing ovation. "It's my hope to stay actively engaged and actively relevant across the range of issues that I care most about and hope to add the most value to."
- Photos: Matt Kaskavitch