STORY
Shoemaker to faculty: We won't always agree, but let's work together
Regent speaks at academic year's final Faculty Council meeting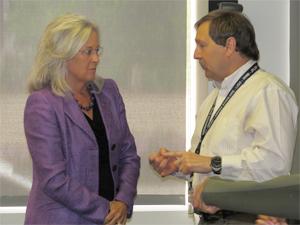 Jay Dedrick/University of Colorado
Regent Linda Shoemaker made her first appearance before the Faculty Council last week, speaking and taking questions at 1800 Grant St. during the group's May 7 meeting, the last of the academic year.
The Boulder Democrat has been in her new role since January, following her November election to the seat representing the 2nd Congressional District. Quality public education, she said, has been her passion for many years.
"I am so happy to be a regent," she told the council. "That may sound very strange, but it is the perfect job for me. I didn't particularly enjoy campaigning but I love CU and I love learning new things. … There's a lot to learn about this university."
Shoemaker described her three core values, which serve as the lenses through which she views issues: equal rights ("I came of age in the 1960s when people of color and women rebelled against the system"); truth and justice (her years as a professional journalist and lawyer revolved around their pursuit); and opportunity (she was founding board chair the Bell Policy Center, a nonprofit dedicated to opportunity for all Coloradans).
"Those are my touchstones that I try to use to make decisions on your behalf," she said.
"The faculty … are not only the heart of the university, but the talent that fuels this operation. And you shape our future," Shoemaker said. "I really want to listen to the faculty. That doesn't mean I'll always agree with you, but I want to understand what the faculty needs and what we can do at the regents' level to make your life easier."
Council members offered questions and comments – Catherine Kunce suggested that Shoemaker and other board members shadow faculty members on campus for new perspective – and Shoemaker said she welcomes opportunities for faculty and regents to work together. Melinda Piket-May asked Shoemaker for her thoughts about online education and its evolution at CU.
"I'm probably closest to Regent (Stephen) Ludwig. … I would say there's no need for three separate MBA programs to be taught online," Shoemaker said. "Unless they're substantively different from one another, we ought to have one online degree that would pull from the best across campuses. You guys can figure out the economics of it. I think we're late to the online party, but in some ways that can be good. We can learn best practices from everybody else."
In other business at last week's Faculty Council meeting at 1800 Grant St.:
The council presented its Administrator of the Year Award to E. Jill Pollock, former vice president of employee and information services. Pollock took on a new slate of system and campus initiatives at the end of 2014 when Kathy Nesbitt was named vice president. "It's been a privilege to work with you for nearly seven years," Pollock told the council. "I've seen what you can accomplish when you work together. … My advice to you, as a council member or faculty member, is to be bold. Be willing to talk about things that need to be done. Be willing to look at things differently. Be willing to change yourselves and change others. The world isn't standing still, so if we don't take that on it will leave us in the dust. Thank you all for your support and for your great friendship."

The council gave approval to pending changes in two Administrative Policy Statements, pertaining to conflict of interest in cases of amorous relationships (5014) and sexual misconduct (5015).
The council approved two Faculty Council-sponsored motions that originated in council committees. One recommends that the university create a single, centralized call line for reporting cases of discrimination, harassment or unethical behavior. The other recommends that faculty participation in diversity-related activity be formally recognized and rewarded.
Laura Borgelt thanked the council for its support during her year as chair; she is stepping down from the post because of her new role as an associate dean at the Skaggs School of Pharmacy and Pharmaceutical Sciences. "I have really enjoyed this experience," she said. "I really have learned a lot. I'm leaving with an even fonder appreciation of being a faculty member at the University of Colorado." Though she said she'll be available to consult with the council when possible, the immediate past chair post will be held by Melinda Piket-May.