STORY
SEHD program working to increase diversity among K-12 teachers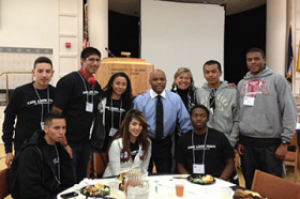 In the United States, during recent decades, observers have noted that the student population in K-12 public schools has become more and more ethnically diverse. Over the same time, public school teachers, proportionally are not as diverse.
CU Denver's School of Education and Human Development (SEHD) program Pathways2Teaching is working to increase the number of teachers of color in Colorado. The program connects with current high school students at Denver's Montbello and George Washington High Schools.
Now in its third year, Pathways2Teaching is under the direction of Margarita Bianco, EdD, assistant professor, Special Education and Teacher Education.
"This program is designed for diverse urban youth to help them explore teaching and related professions," Bianco explained. High school students can earn some college credit through a rigorous curriculum focused on critical thinking regarding educational justice.
The high school students affiliated with Pathways2Teaching gathered early this week at the Teachers of Color and Allies Summit held CU-Boulder. At the conference, the young students met keynote speaker Denver Mayor Michael Hancock (center photo).
Before his formal remarks, Hancock spent time with the Pathways2Teaching students. He encouraged them to pursue teaching. Then during his keynote Hancock described the impact a great teacher had on his own life and career.