STORY
School of Pharmacy looks to future with new name, new building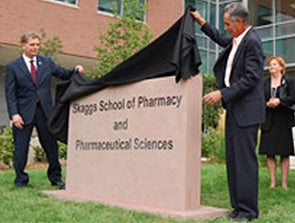 From Boulder to Ninth Avenue in Denver and now to its current Aurora home on the Anschutz Medical Campus, the University of Colorado School of Pharmacy recognized 100 years of education, patient care and scientific discovery Aug. 29 with a new building and dedication, new name and kickoff to a yearlong celebration of the school's century of care.
The new, four-story, 171,146-square-foot pharmacy and pharmaceutical sciences building, which houses the school, is the newest education and research addition on the campus and the first to seek LEED (Leadership in Energy and Environmental Design) status, an internationally recognized green building certification system.
The building was made possible by an $11 million grant from the Skaggs family and the ALSAM Foundation.  During the dedication ceremony, the school was named the University of Colorado Skaggs School of Pharmacy and Pharmaceutical Sciences, in recognition of Mr. L.S. Skaggs, his family and the ALSAM Foundation, whose generosity made the building a reality.
Guests and speakers at the dedication included Claudia Skaggs Luttrell, representing the Skaggs family; School of Pharmacy Dean Ralph Altiere; Colorado Rep. Ed Perlmutter; Colorado Rep. Diana DeGette; Aurora Mayor Ed Tauer; University of Colorado President Bruce Benson; University of Colorado Denver Chancellor Jerry Wartgow; Vice President for Health Affairs University of Colorado and Executive Vice Chancellor Anschutz Medical Campus Lilly Marks; and University of Colorado Regent Sue Sharkey.
From providing care to thousands of Coloradans through health fairs and collaborative diabetes clinics throughout the state to its annual prescription drug disposal event to its long-held tradition of embracing diversity and the discovery of a new colon cancer marker, the school is one of the top research schools in the country. It ranks second of 120 U.S. pharmacy schools having PharmDs with funding from the National Institutes of Health (NIH); third among U.S. pharmacy schools in NIH awards per Ph.D. faculty and No. 14 among U.S. pharmacy schools in total NIH research funding. The school also is the second-largest school of pharmacy in the nation to provide online pharmacy education for working pharmacists.
Recent research breakthroughs include:
Faculty member Vasilis Vasiliou has spent the past 15 years researching detoxifying enzymes to discover a new colon cancer marker that could one day improve both detection and treatment of colon cancer.
LaToya Jones-Braun's breakthrough work keeping the hepatitis B vaccine potent at room temperature will help ensure thousands of people are vaccinated from this killer and potentially save millions of lives.
Studying the potential of a combination of drugs to prevent HIV transmission prior to exposure, Peter Anderson and colleagues proved that you can protect people from the virus. His work was highlighted in the November 2010 edition of the New England Journal of Medicine.
Breaking barriers and embracing diversity:
From first graduate Armin Rosenblum to the all-female class of 1920, the School of Pharmacy has long held a tradition of embracing people of color, gender and ethnicities. In 1953, Daniel Brockman was one of the first African-Americans to graduate from the School of Pharmacy. Today, one-third of the student body is non-Caucasian.
Colorado Women's Hall of Fame 2008 inductee and CU School of Pharmacy graduate Capt. Katherine Keating actively served in three wars and was the first woman to rise from seaman recruit to captain.
Providing care and community service:
Since 1981, the School of Pharmacy has provided thousands of Coloradans with testing and clinical care through its partnerships with 9Health Fair and the National Western stock show.
Clinical trials and adjusting medications of pancreatic cancer patients is helping those with stage IV cancer survive four-plus years. Thanks to a clinical trial and combination of medications managed by associate pharmacy professor Cindy O'Bryant, Garrison Roots has lived more than four years with advanced pancreatic cancer.
The school has hosted two medication drug disposal events for the community, collecting and disposing of more than a ton of expired and unused medications.
With dedicated space for student organizations and clinical trials, faculty offices, 45 laboratories and multipurpose space for seminars and onsite immunization clinics, the new building will grow with the staff and students as they grow for many years to come.
The $63 million, 171,416-square-foott building boasts a research and learning hub for 600-plus students.  The top three floors of the four-story structure are programmed for research; they host 45 wet lab bays, 69 specialty alcoves that can be reconfigured to support a variety of functions and a fixed core area devoted to cold rooms, dark rooms, mass spectrometers and other shared support equipment.  The new research space will enable the school to expand its pharmaceutical biotechnology program, launch a drug-development center and expand its 55-member faculty.  The ground floor houses a drug trials clinic and an 80-seat tiered seminar room.