STORY
Scholarship of teaching, learning highlighted at meeting
President's Teaching and Learning Collaborative members exchange ideas at poster session

The President's Teaching and Learning Collaborative (PTLC) – the University of Colorado's Scholarship of Teaching and Learning Program – recently hosted a poster session on Monday at the CU Anschutz Medical Campus.
About 25 attended the May 11 event, where 11 PTLC members presented projects, sharing information via informal explanations and discussions.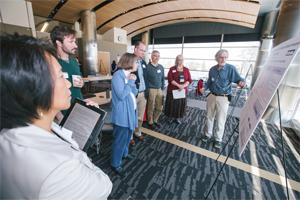 Central to the PTLC's work is creating and publishing scholarship in teaching and learning that contributes to theory and effective teaching practice in and across disciplines. Each faculty researcher designs and undertakes an investigation aimed at deepening understanding of disciplinary pedagogy and related to an important issue in learning.
"We are each a part of a transformation in higher education by engaging on the growth and development of effective learning strategies designed from your scholarly teaching," said PTLC Director Mary Ann Shea in opening remarks. "I applaud you for developing a practice of inquiry in teaching, for measuring student learning, for participating in the growing interdisciplinary field of the scholarship of teaching and learning – and for supporting peer-reviewed publication and dissemination of research."
Steven Pollock, a President's Teaching Scholar in the Physics Department at CU-Boulder, delivered a talk, "Learning About Learning: Education Research in Action."
Faculty researchers design, carry out, and publish research on a particular aspect of learning in a specific course. Each investigator is supported by a coach and short seminars in how to do education research.