STORY
Retirement savings require diversity
Next week brings planning seminars to four campuses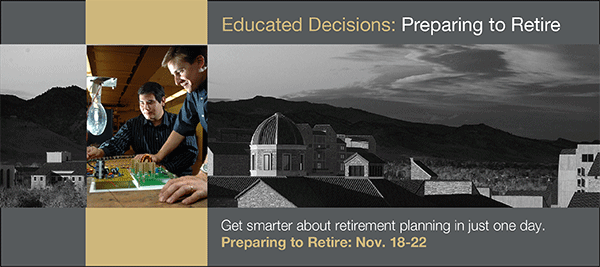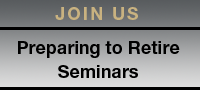 Join CU retirement-plan sponsors for "Preparing to Retire" seminars, sessions and fairs with the tools you need to plan for your retirement. Drop in on any or all of our events without registering:
Monday, Nov. 18: UCCS
Tuesday, Nov. 19: CU Anschutz Medical Campus
Thursday, Nov. 21: CU Denver
Friday, Nov. 22: CU-Boulder
It doesn't matter in what phase of financial planning you fall; you can access tips and information on everything from the multi-generational value of Social Security to how and why oil production overseas impacts your investments.
Check out the "Preparing to Retire" calendar to find presentation topics, times and locations.Check out the "Preparing to Retire" calendar to find presentation topics, times and locations.
A good rule of thumb for your retirement savings: Your investments should be as diverse as each person in your life.
Love them or hate them, you need the risk takers (stocks) just as much as the stable devotees of the status quo (guaranteed assets). That's because diversity helps you find balance. It keeps things interesting.
Better yet, it creates a safety net. So when the Dow Jones—along with any stocks you have—drops, you'll be glad you placed some of your money in those seemingly boring but secure guaranteed assets, says Paul Soroka, Director of TIAA-CREF's Field Consulting Group.
This news isn't new, but it's certainly an important tenet for all investors to remember, Soroka says. He'll be discussing the value of everything from asset classes to pensions in his "Preparing to Retire" session, "Retirement Income Options." He hopes this will be a refreshing look at just how broad your retirement plan options are.
"We'll look at the different options and flexibility they have to create an income stream in retirement, because, after all, they're going to have to replace their salary," Soroka says. "And, of course, everyone's situation is very personal and specific."
For that reason, TIAA-CREF and other CU retirement-plan sponsors at the event will be on hand to answer questions and, if necessary, refer people to financial consultants. That way, everyone—from the risk averse to the risk tolerant —will find an investment option that meshes with their personality.
The "personalities" of asset classes
1. Equities or stocks
investments in companies
highest rate of return over time
highest risk
2. Fixed income, or bonds
interest-bearing investments
tend to be less risky than stocks
tend to have less return over time
affected by interest rates (When interest goes up, bonds go down, and vice versa.)
3. Money market, or cash
very low risk
provides people with a lot of flexibility
4. Guaranteed
guarantees you your investment and a rate of return
low-risk investment
provides security and stability
5. Real estate
moderate-risk asset class
not correlated with the stock or bond market