STORY
Reminder: Open enrollment requires action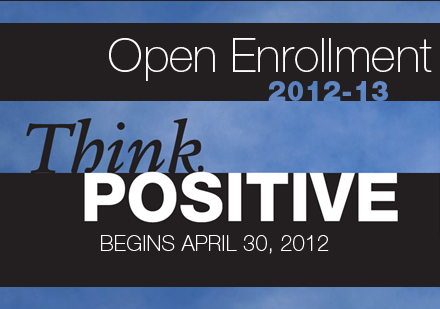 Open Enrollment (OE), the one time each year when University of Colorado faculty and staff may make changes to benefits plans, begins at 8 a.m. April 30 and ends at 5 p.m. May 25.
The 2012–13 OE is a positive enrollment for all medical and dental benefits-eligible employees, which means you must take action for medical and dental benefits, even if you waived coverage for FY 2011-12. The only exception will be for Medicare-eligible retirees and surviving spouses/same gender domestic partners.
Why a positive enrollment this year? After a competitive process that included evaluators from all four campuses and system administration, the University of Colorado Health and Welfare Trust awarded Cigna and Kaiser Permanente the administrative services contracts for its group medical plans effective July 1, 2012. With the transition, it is important for all employees to educate themselves about plan updates and reaffirm their elections. Also, federal health care law now requires that employers ask employees who have waived coverage the reasons why they elect to do so.
Payroll & Benefit Services (PBS) is finishing plan details and will be updating the OE website  - www.cu.edu/openenrollment - with details on plan changes, plan comparisons, rates, instructions on how to enroll, and what will happen if you choose not to take action during open enrollment.
PBS will continue to make announcements via the OE website, your official university email and in CU Connections.