STORY
Regents vote to hold tuition, compensation flat
State budget decisions, expected in the coming weeks, will further affect FY20-21
The Board of Regents on Tuesday voted to hold tuition flat for resident undergraduates across the system, as well as for most nonresident students, as campuses look toward fall enrollment with uncertainty.
A few students – nonresident nursing students at CU Anschutz – will see slight increases in tuition (3%) and mandatory fees (2.1%).
The board also voted in favor of no compensation increases for faculty and staff, and approved some student fee changes as previously reviewed by regents earlier this year.
Those choices now help CU leadership add some clarity to budgeting for the 2020-21 fiscal year, though much remains unknown leading up to the Board of Regents' budget vote June 18. Uncertainty over fall enrollment figures will remain for a while.
"We expect state budget cuts to be quite significant when it comes to K-12 and higher education," said Todd Saliman, vice president of budget and finance and chief financial officer, who presented details on the tuition, fee and compensation recommendations during the meeting, held via Zoom and livestreamed. A video recording of the meeting is posted here.
Later Tuesday, the legislative Joint Budget Committee (JBC) voted to cut 58% of general fund support for higher education across the state. That figure was much higher than that proposed by JBC staff, no more than a 30% reduction.
Saliman noted Gov. Jared Polis' distribution of $450 million in federal CARES support to Colorado colleges and universities, with $127 million of that coming to CU. However, the federal stimulus money is earmarked for responses specifically to COVID-19, and cannot be used to offset state cuts.
The JBC is expected to set the recommended state budget late this week, with the House set to consider it the week of May 25, followed by the Senate the week of June 1. Early that month, the budget will be sent to the governor for action.
CU leaders continue to plan for three budget scenarios in the coming year, reflecting drops in operating funds of either 5%, 10% or 20%. They differ in assumptions about how much teaching and learning will be done in person vs. remotely. Expected drops in fall enrollment, research funding and auxiliary enterprise income remain ongoing financial threats.
The board wasn't unanimous in its support of the budget recommendations.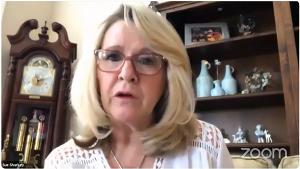 The zero tuition increase was approved 8-1; Regent Sue Sharkey said she opposed it because she would have preferred a tuition cut. She also opposed increases to student fees, being joined by Regent Heidi Ganahl in the 7-2 vote.
Regents Ganahl and Sharkey also voted against the compensation proposal, being joined by Regent Chance Hill in the 5-3 vote. Kroll abstained; as a CU Boulder employee, he chooses not to vote on compensation. Sharkey said she objected because while there won't be a merit pool for salary increases, there remains a potential that salary increases could be used as deemed necessary for certain instances of employee retention.