STORY
Regents hear update on freshman retention rates
Multiple factors contributing to challenging environment for students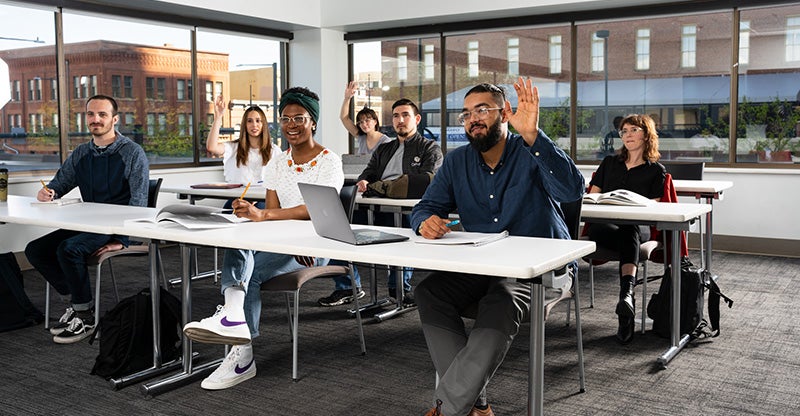 COLORADO SPRINGS – The Board of Regents on Nov. 3 heard an update on CU's Strategic Plan, delving into brand new numbers detailing student retention.
During a presentation at the board's meeting at UCCS, Chad Marturano, vice president and chief financial officer for CU's system administration, shared slides detailing trends in freshman retention as of this fall. The metric is part of the Strategic Plan's Pillar 1, Affordability and Student Success.
The current environment for retaining freshman students is challenging, Marturano said. High inflation could be discouraging students from continuing beyond their first year. Unemployment is low, with many jobs available. Ongoing repercussions from the pandemic also may be contributing factors, including mental health challenges and diminished preparedness among high school graduates.
At 87.8% freshman retention this fall, CU Boulder achieved its goal. Freshman retention rates are based on first-time, full-time freshmen returning for their sophomore year. At UCCS (66.7%) and CU Denver (69.5%), freshman retention rates this fall fell short of goals.
Freshman retention rates among underrepresented minority students (URM, defined to include Hispanic, Black, American Indian and Pacific Islander) fell short of goals this fall at CU Boulder (81.8%), UCCS (60.1%) and CU Denver (69.5%).
Each of the three campuses is taking action to improve the freshman retention rates:
CU Boulder Action Steps
1. Strengthen the first-year academic advising network.
2. Enhance recruitment partnerships with academic programs.
3. Continue widespread use of predictive analytics to identify students who need support.
4. Develop and implement Common Curriculum.
5. Increase access to First-Year Experience or Living Learning Community.
UCCS Action Steps
1. Mandatory advising; Academic Coaching.
2. GPS curriculum.
3. Campus Affinity Building.
4. Multicultural Office of Student Access, Inclusiveness and Community (MOSAIC).
5. Learning communities.
CU Denver Action Steps
1. Providing opportunities for first-year students to engage in support programs to help ensure a strong start to the year.
2. Lynx Summer Academy.
3. Milo's Rising Scholars.
4. New CAM living-learning community in City Heights.
5. Academic Boot Camps.
6. First-Year Experience Courses.
The board meeting's Strategic Plan focus also included an aspect of Pillar 2, Discovery and Impact, which tracks the number of patients served at the CU Anschutz Medical Campus.
Clinical faculty at the CU Anschutz Medical Campus served over 696,000 patients in the 2021-22 fiscal year, achieving the annual progress goal. To continue the trend, the campus's action steps include expanding services to additional populations such as underrepresented minorities, increasing marketing efforts and increasing telehealth services and remote patient monitoring.
Regents joined campus and system leaders at roundtable discussions to gain further understanding of the trends detailed in the update.
In other business at the board's meeting, held Nov. 3 and 4 at UCCS:
The board unanimously passed a resolution encouraging the campuses to continue to make available Spanish-language resources for students, including applications, bills, and materials related to admission, financial aid, orientation, housing, course selection and enrollment, among others.

The board unanimously passed a resolution of appreciation in honor of the late Lester B. "Dusty" Loo, a longtime supporter of UCCS and the CU community, whose family continues to show generosity and support to the university. Read more in Communique.

Board members and university leaders celebrated three departing regents and thanked them for their contributions to CU during their terms. The board approved resolutions of appreciation and designated the three as Regents Emereti: Heidi Ganahl and John "Jack" Kroll did not run for reelection after serving their six-year terms; Sue Sharkey is term-limited after having served 12 years on the board. Last week's meeting was the final one for all three, whose terms officially end in January when those regents elected Tuesday will be sworn in.