STORY
Regent Griego won't seek reelection in 2020
Current vice chair will have served nine years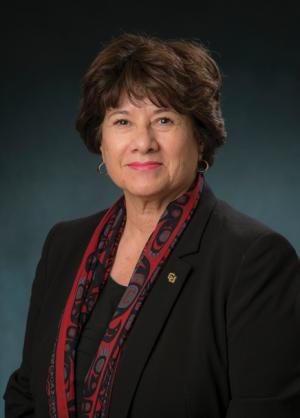 Regent Irene Griego, a Jefferson County Democrat who represents Colorado's 7th Congressional District, today announced she will not seek reelection to the board in 2020.
Griego was appointed to the Board of Regents by Gov. John Hickenlooper in 2011 and was elected twice to represent her district.
Her statement:
"I have decided not to seek another term as a CU regent. When my term ends in January 2021, I will have served as a regent for nine years, capping a career of serving students in K-16 education for 46 years. Whether working as a classroom teacher, community superintendent or regent, I have been honored to help students achieve their potential.
"Reflecting on my time as a CU regent, I am most proud of being a voice for faculty, staff and students. Before making any decision, I always remain focused on how it will meet the needs of our students and staff. I have found it particularly rewarding to take leadership in the areas of diversity and inclusion, including support for our DACA and LGBTQ+ students, as well my support for students from diverse backgrounds. In my role as the first Latina chair of the Board of Regents, I worked hard to create an atmosphere of collaboration between the regents and the university administration where we work in a bipartisan manner and focus on what is best for all students.
"In my remaining time on the board, I will continue to work on shared governance, diversity and inclusion. I will support President Mark Kennedy's strategic planning efforts as a blueprint for the university's future."
Griego, the board's current vice chair, first was appointed to fill a vacancy on the board in 2011. She then ran for and won the seat in 2012, to complete that term, then ran again in 2014, winning the six-year term she is completing.
Her decision means no incumbent will be running for regent in 2020 in District 7, which covers much of the north and west metro area, including all or portions of Northglenn, Thornton, Westminster, Arvada, Lakewood and Golden. U.S. Rep. Ed Perlmutter, D-Arvada, is the district's congressional representative.
Griego is the second regent to announce she won't seek reelection next year, following Regent John Carson, R-Highlands Ranch, in District 6. Regent Linda Shoemaker, D-Boulder, whose District 2 seat also will be on the 2020 ballot, has not yet announced her plans.
Griego is a lifelong resident of Colorado whose career in public education took root with degrees from CU. She earned a bachelor's degree in elementary education from CU Boulder and a doctorate in school administration from CU Denver. She also earned a master's in educational administration from the University of Northern Colorado.