STORY
Pro racers warm up route for scholarship ride
Registration continues for 10th Annual Buffalo Bicycle Classic
[caption id="attachment_4074" align="aligncenter" width="600"]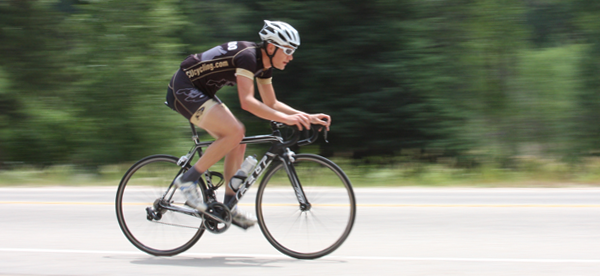 A CU Cycling team member rides Boulder Canyon in June.
[/caption]
Two weeks after professional cyclists race through Boulder and up Boulder Canyon, some riders in the 10th Annual Buffalo Bicycle Classic will follow much of the same route, the most mountainous section of Stage 6 of the 2012 USA Pro Cycling Challenge.
The pros ride through on Saturday, and the Elevations Credit Union Buffalo Bicycle Classic is scheduled for Sept. 9. The classic, which raises scholarship funds for high-performing students who qualify for financial aid, has a new 100-mile "century" route, called the Buff Epic.
During the ride, Boulder Canyon's westbound lane will be closed to traffic from 7 a.m. to approximately 9:30 a.m.
The epic "century" ride will start on campus, ascend the Boulder Canyon to Nederland, follow the Peak to Peak Highway past Ward, descend St. Vrain Canyon to Lyons and then head east to Erie and back to Boulder. While the Pro Cycling Challenge's stage is longer (it starts in Golden and finishes on Flagstaff Mountain), it shares the demanding stretch between Boulder, Nederland and Lyons.
But the Buffalo Bicycle Classic is not just for mountain goats. It still will include all of its five signature events, one for every ability level: the classic 100-mile ride, now called the Foothills Century, plus its 70-mile, 50-mile, 35-mile and 14-mile Little Buff family-friendly community ride.
The 2012 Little Buff is co-sponsored by the Center for People With Disabilities. The center is recruiting participants — including blind riders who could ride on tandem bicycles — from its organization, according to Ian Engle, the center's executive director.
"There are a lot of major athletes around the Boulder area who use adaptive equipment, and we work with a lot of folks who both would love to showcase our talents and abilities using adaptive equipment and people who might not otherwise be able to participate in such an event," Engle said.
The Center for People with Disabilities is promoting the ride as a "fully inclusive community event." It is offering scholarships for disabled riders who can't afford the registration fee, and it is offering to provide adaptive equipment for riders who need it.
"When we include people who are on the margins of our community, it strengthens the moral fabric of our community as a whole," Engle said.
"This year, more than ever, the Buffalo Bicycle Classic will accommodate riders of every ability," said Todd Gleeson, former dean of the College of Arts and Sciences and one of the ride's founders.
Since 2003, the Buffalo Bicycle Classic has raised more than $1.6 million for scholarships and has funded more than 730 scholarships. The event is the single largest source of scholarships for the College of Arts and Sciences.
Scholarship recipients are selected based on grade-point average and financial need. They cannot apply for the scholarship and don't know they are being considered until they learn they have won.
All net proceeds go toward scholarships, and a portion of the registration fee is tax-deductible.
For more information on the Buffalo Bicycle Classic, see http://www.buffalobicycleclassic.com. To see scholarship recipients discuss what the scholarship meant to them, see http://youtu.be/Pj1l_ihaA8w. To watch CU Cycling team members ride a time trial of the Boulder Canyon segment of the Buff Epic, see http://youtu.be/9v7VHu2IqxM.