STORY
Postdocs share research, get feedback at Research Day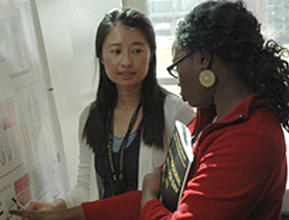 Eunyoung Tak, a postdoctoral fellow doing research on acute liver injury, is a native of South Korea and still working on her English. That didn't stop her from enthusiastically explaining her research to passersby at the third annual University of Colorado Denver | Anschutz Medical Campus Postdoctoral Research Day.
Eighty-one postdoc fellows from the Denver Campus, Anschutz Medical Campus and National Jewish Health presented their research projects in Trivisible in Research 2 on Friday.
"I'm learning lots of things here," said Tak, who came to Anschutz Medical Campus after completing her doctoral degree in Seoul, Korea. "I'm learning how to become an independent young scientist."
She credited her principal investigator on the "Hypoxia Inducible Factors in Acute Liver Injury" project, Holger Eltzschig, MD, PhD, for being an excellent mentor. "I'm trying to learn good things from other scientists. It's a nice environment here for that."
Kristina McFadden, a postdoctoral fellow in the Department of Psychiatry and chair of Postdoctoral Research Day, said there are about 300 postdocs at Anschutz Medical Campus and the Denver Campus.
The annual event is "meant as a nice venue for postdocs to get out of the lab and to see research that their peers are doing," McFadden said. "Let them kind of see what's going on around campus and to have a venue in which to present their research and get feedback from their peers and faculty."
The Postdoc Day also featured career development workshops, national speakers and an abstract competition. A group of nine postdoc fellows as well as faculty and staff judged the abstracts of all of 81 posters, selecting three for special recognition. The fellows who worked on those three projects -- Dana Higbee, MS, MD; Brendan Giles, PhD; and Sandra Christoph, MD, PhD -- gave 15-minute presentations about their research.
Speakers included keynote Lawrence Tabak, DDS, PhD, who is the principal deputy director of the National Institutes of Health, and Jorge Cham, MS, PhD, the creator of "Piled Higher and Deeper (PhD)," the popular comic strip about life (or lack thereof) in academia.
While many of the postdocs are headed toward a career as a tenured faculty member leading their own labs -- they are in different stages of research, from first year to several years logged -- Tabak encouraged the fellows to consider alternate scientific careers. Besides performing research that could have potential therapeutic benefits to disease, researchers could go into health care delivery, industry based research, science administration and policy making positions, Tabak said.
"All of this stuff that has exploded about H5N1, all the work that exploded related to stem cell use -- it was policy people with scientific backgrounds that carried the day," he said. "Goodness knows, we need more people teaching K through 12 about science."
Research is hard work, and it will never get easier, Tabak added. The key is "to make sure whatever it is you're studying is something that you are really passionate about."
The university Postdoctoral Association has several upcoming events. For information check for the latest on the Postdoctoral Office site or call Coordinator Valerie Saltou at 303-724-2930.