STORY
Police reform, racial injustice in focus at Faculty Council meeting
Governance group hears from campus law enforcement leaders, student activists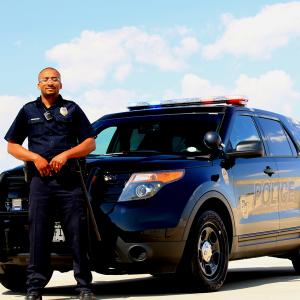 Societal issues that spurred activism over the summer – racial injustice and police reform – drove discussion during the Sept. 24 Faculty Council meeting, held remotely via Zoom.
The governance group's agenda devoted time to conversations with student activists and campus law enforcement leaders.
"There is a history in policing that we can't undo. There are racist systems," said Randy Repola, police chief for CU Denver and CU Anschutz. He acknowledged that police shootings and incarceration affect Blacks at much higher rates than whites. He said the issues can be traced further back to the suspension rate for Black students in K-12 classrooms, also disproportionately high.
"I'm not offering that to indicate policing does not have some things to work on," Repola said. "We need to be part of the long-term solution."
Repola said police departments at all campuses have been working to reevaluate policies and procedures as required earlier this year by the passage of Colorado Senate Bill 20-217 into law. The requirements encompass aspects of police training, use of force, prohibited types of force, demographic reporting, crowd control reporting and use of force reporting.
Repola said law enforcement officers are on college campuses because they want to be part of the educational experience and to create a safe environment. He and CU Boulder Police Chief Doreen Jokerst and UCCS Police Chief Marc Pino said use of lethal force is very rare on the campuses, and that campus law enforcement aims to minimize the need for students to enter into the criminal justice system. Pino said most crimes occurring on campus are referred to the dean of students or student housing.
"I want people to run to us for help, not run away," Jokerst said. "As far as what steps can we take, for me it comes down to accountability, community engagement and transparency."
Pino said the three police chiefs meet quarterly and try to take a CU-wide approach to addressing many issues. Law enforcement across the system will continue to collaborate with the university community to address concerns and work toward solutions.
"We didn't get into this situation overnight, and we're not going to get out of it this academic year," Repola said.
Earlier in the meeting, Regents Irene Griego and Linda Shoemaker introduced a discussion of BIPOC student concerns.
"I call them my mentors," Shoemaker said. "They spent a lot of time with me this summer as I was grappling with what was new about the racial reckoning time we're in right now."
Students who spoke included LeAnna Luney, whose Divest 2 Invest Collective at CU Boulder has asked the campus to divest from its police department. Luney and fellow CU Boulder students Kaylee Zamastil and Laura Gonzalez called for diverting police budgets to bolstering mental health and other human services.
In other business at last week's Faculty Council meeting:
Council members heard an update on systemwide diversity, equity and inclusion efforts from Theodosia Cook, chief diversity officer. Brenda Allen, CU professor emerita, also continued her work with the council, providing a micro-training.
An update on the CU Online initiative included discussion with Sheana Bull and Scot Chadwick of the Office of Digital Education (ODE) and consultants James Sparkman and Greg Finkelstein of Alpha Education. After pausing earlier this year, the effort to boost CU's online education capabilities systemwide is set to resume, with all in agreement that the individual campuses will maintain academic control. Growth opportunities will depend on investment and agreed-upon pooling of some resources. Discussion of those details is expected over the next few months, with Faculty Council intending to engage with ODE, the president's office and the campus chancellors and provosts.
Todd Saliman, senior vice president for strategy, government relations and chief financial officer, gave an update on the budget, which continues to face challenges brought on by the pandemic and its impact on enrollment. He said higher education is expected to face another significant cut when the governor's office presents the statewide 2021-22 budget request to the Legislature on Nov. 1.