STORY
Pioneering spirit provides inspiration at CU Women Succeeding
Faculty, staff celebrate achievements, share challenges at annual symposium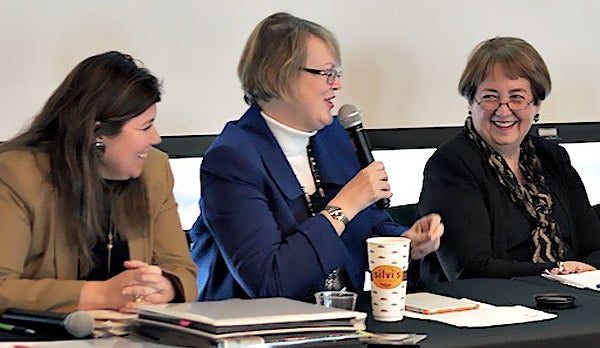 Photo courtesy Daniel Sauvé
About 140 faculty and staff from across the University of Colorado system gathered last week for the 13th annual CU Women Succeeding, a professional development symposium that shines the spotlight on achievements and takes stock of ongoing challenges.
"Pioneering Women" provided the theme for Friday's event, a daylong slate of speeches, workshops, panels and informal discussions at the CU Anschutz Medical Campus. The CU Faculty Council Women's Committee presented the event.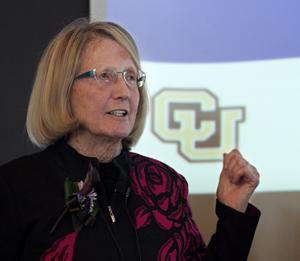 Photo courtesy Daniel Sauvé
The day also saw the presentation of the Elizabeth Gee Memorial Lectureship Award to Carol Rumack, professor of radiology-diagnostics at the CU School of Medicine. Her CU ties date back to 1974, when she served her radiology residency at CU.
In her featured lecture, Rumack told of her first attempts to be hired into a full-time job as a radiologist, when she was given excuses by those in charge: "I was told by the University of Colorado radiology chair that we won't hire another woman after one woman faculty member committed suicide." At a private practice, she was told, "We're all men radiologists – we don't want women. They get pregnant, you know." At Denver General, she was told the university chair allowed no women faculty.
She persevered, though, becoming an advocate for women at CU and beyond. She worked with School of Medicine Dean Richard Krugman as he first established the Women in Medicine Office in 1993.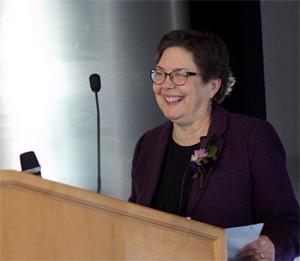 Photo courtesy Daniel Sauvé
The "Pioneering Women" theme inspired keynote speaker Kathleen Bollard, vice president for academic affairs, to delve into the history of her own family, including a great-great-grandmother who ventured West in a covered wagon. Another relative passed along the information that "my family was related to Susan B. Anthony – and either Barnum or Bailey," she said.
"What these pioneering women taught me for mapping the future was to get an education, be responsible, love your family, seek adventure and act for the greater good," Bollard said.
Here are other nuggets of wisdom that symposium participants shared with one another:
Pam Shockley-Zalabak, chancellor, UCCS, who spoke on a five-member panel, "Successfully Navigating the CU Academic Prairie": "I care far less about titles than about getting something done. … For me, leadership is, what do you want to see done? What do you want do see happen? And how can you contribute to that? That's what you should be asking yourself, not, 'What is the title you want?'"
Carol Rumack: "My advice to young academics is to be ready to try new things, because it may be your chance to succeed where others hesitate to go. And nominate women for leadership roles. Men nominate their best friends, and you should, too!"
Patricia Rankin, associate vice chancellor for research, CU-Boulder, panelist: "Would I do it again? I would. I'm passionate about supporting change and passionate about research and scholarship. But I would not do it the same way because I have learned a lot over the past 20 to 30 years. … I didn't know how to negotiate. I didn't know that I shouldn't have accepted the first offer made to me. … And I was thinking I shouldn't have had to ask to be treated fairly compared to my male colleagues. I think a lot of people feel that way. So ask for what you want. If there's a role you really want, ask for the opportunity."
Debbi Main, professor, College of Liberal Arts and Sciences, CU Denver, panelist: "I've always believed in teams. … I'm a principal investigator on projects, but I'm not an independent investigator and I never have been. … I think observing sometimes, instead of jumping in, is a form of leadership. … You can be a leader without being an administrator, and you can be a leader even if you're not an independent investigator. It just may look a little bit different."
Regina Kilkenny, associate vice chancellor, CU Anschutz and CU Denver, panelist: "I'm not the smartest person in the room, but I am the most caring sometimes. … It's important to have a heart."
Tanya Kelly-Bowry, vice president of government relations, panelist: "Be loyal to your current boss, but learn to read the writing on the wall. … Never burn bridges, because people can always come back around in other roles. … You need to ask, but you should never threaten. … Be authentic to yourself."
Kathleen Bollard: "You know how, when you walk into a room for a meeting, they have the table with chairs, and then a line of chairs along the wall? If you sit demurely by the wall, people won't listen. Sit at the table. Things like that can make a huge difference. … I think we all need to inspire each other as much as we can."
Brenda Allen, associate vice chancellor for diversity and inclusion, CU Denver and CU Anschutz, announced at the conclusion of the event that the CU Womentoring initiative will launch later this month. The yearlong effort will include organized activities to help women succeed and thrive in their career paths; a soon-to-go-live website will provide details on these events and collect multimedia content about mentoring.
Click here for more on this year's symposium, including a list of sponsors.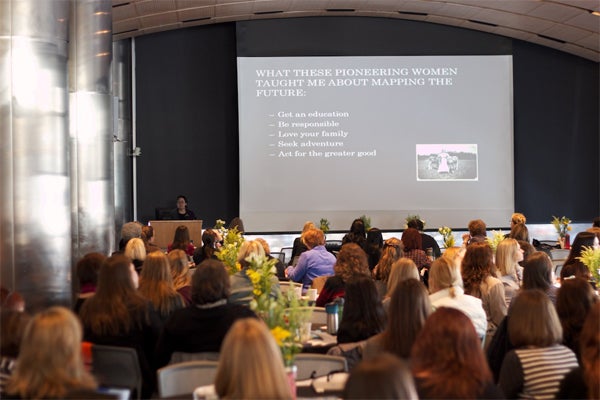 Photo courtesy Daniel Sauvé