STORY
Obama to student borrowers: 'I've been in your shoes'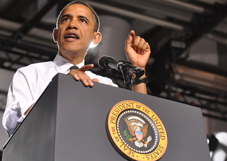 click image to view gallery
President Barack Obama on Wednesday told a University of Colorado Denver audience he plans measures to take effect next year that will lead to interest-rate savings and simplified repayment of college loans.
"I've been in your shoes," Obama told the crowd of 4,000-plus at the Auraria Event Center, including many CU Denver students, staff and faculty. He spoke of the $120,000 in student debt that he and his wife, Michelle, had incurred by the time they graduated law school.
"So how do we make college more affordable and make sure you're saddled with less debt?" Obama said.
With one of three initiatives, many borrowers could see federal college loan payments drop by hundreds of dollars a month, he said. The proposal would cap student loan repayment at 10 percent of a borrower's discretionary income, starting next year.
According to the White House, the pay-as-you-earn proposal would only apply to some current students and recent graduates. Others, though, might already be able to benefit from an income-based repayment plan that caps payments at 15 percent of a borrower's discretionary income.
Obama, who met briefly with CU Denver Chancellor Jerry Wartgow before the speech, relied on personal recollection in introducing the second initiative, too. He told of the inconvenience of having to send multiple checks to multiple lenders each month, and of the increased risk of late-payment penalties.
"We're going to make it easier to have one payment a month, and at a better interest rate," he said. Some 6 million borrowers will be allowed to consolidate multiple student loans and take advantage of incentives that encourage on-time repayment.
Finally, a public education campaign will aim to better enlighten students to the particulars of financial aid. Know Before You Owe launched Wednesday with the release of a financial aid "shopping sheet."
During his 25-minute speech, Obama emphasized that he's relying on current students to spread the word about the initiatives; his pleas for "tweets" drew chuckles from himself and the crowd. One CU Denver student, Mahala Greer, introduced the president.
The president was on a Western swing that included fundraising events in Denver on Tuesday night. He couched his college-crowd specifics in a broader acknowledgment of the tough economic times facing the country and his struggles to get Congress to take action on proposed legislation such as his jobs act.
"When I look out at all of you, I feel confident," he said. "As long as people like you are inspired by hope, there'll be better days for this country. The fact you're going to college tells me you share my faith in America's future."
Because 60 percent of new jobs in the next decade will require more than a high school education, he said, higher education plays a key role in which countries will secure those jobs.
"I want us to win the future," he said.