STORY
New solar panels double CU-Boulder's solar power production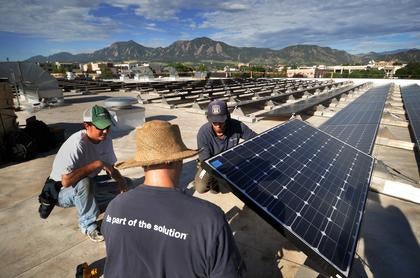 A new array of solar panels installed at the University of Colorado Boulder has doubled solar power production on campus, providing clean energy for research facilities and other campus buildings.
The 500-kilowatt system is capable of producing 725,000 kilowatt-hours of energy per year, enough to power about 100 average-sized houses. The array is unique for CU-Boulder, a campus that already hosts solar panels on numerous rooftops. The new system is the first ground-mounted set of solar panels and the largest on campus. It also is one of the largest ground-mounted arrays in Boulder.
The installation will help CU-Boulder power the campus, reduce energy costs and work toward the long-term goal of achieving carbon neutrality.
"This project complements and extends our commitment to leveraging solar energy throughout campus to provide power in a low-cost and responsible manner," says Moe Tabrizi, CU-Boulder campus sustainability director.
The array is located on 2.5 acres of land near Foothills Parkway and Colorado Avenue, in the 220-acre CU Research Park. It was developed and built by Panasonic Eco Solutions North America with local support from Lighthouse Solar. Financing was provided by a combination of Colorado Amendment 37 rebates and incentives via Xcel Energy, as well as federal tax credits and third-party financing. Colorado Amendment 37 was passed by voters in 2004 to mandate 20 percent use of renewable energy statewide by 2020.
In seven years, CU-Boulder will have the option of purchasing the solar panels at a fraction of their original cost and also will be able to sell power back to Xcel Energy.
Solar panels also are located at 10 other locations on campus including the Coors Events Center, the Center for Community, the University Memorial Center and the Wolf Law Building. Including the new array, CU-Boulder's solar panels generate about 1,000 kilowatt-hours of energy, enough to power about 200 average-sized houses.
For more information about "greening CU" goals and initiatives visit http://www.colorado.edu/cusustainability/greeningcu/GreeningCU.html.