STORY
Middle school students get hands-on medical training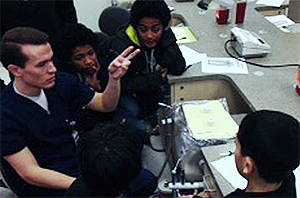 A group of middle school students recently got a hands-on opportunity to use real equipment to perform dental procedures and see how some of the latest medical equipment works.
The 46 students from Denver's Skinner Middle School actually worked on dental models -- not real patients -- to learn about dental hygiene and other symptoms and treatments. That was just one session in the daylong program last month as part of Pre-Collegiate 4 Y.O.U. Hosted by the CU Anschutz Office of Inclusion and Outreach, the participants started the day with a discussion of college life before heading over to the School of Dental Medicine.
Each student had his or her own lab station, where they learned about dental hygiene and corrective procedures. They all had an opportunity to clean, drill and add sealants to a model tooth.
The young students also learned about simulations and the importance of role-playing in preparing future health care providers to be culturally and medically competent. Using "simulated patients," the participants were able to use the knowledge they had just learned and put it into action.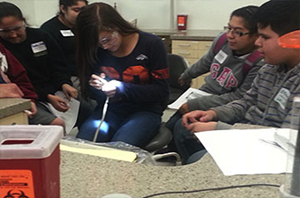 "These young participants soon understood the stress of making life-saving decisions in a chaotic work environment," said Dominic Martinez, MA, senior director, Office of Inclusion and Outreach. "These students were energized, focused and had tons of fun. Many also expressed interest in medical careers and followed up with our staff here at the university."
Martinez extended special thanks to colleagues who offered their time and helped to facilitate access to amazing technologies in the School of Dental Medicine including Samantha Moreno, Ph.D.; Elizabeth Shick, DDS; and Kristy Klare, K-12 coordinator; as well as Joey Failma from the Center for Advancing Professional Excellence (CAPE).