STORY
Medical students (Harlem) shake things up at Match Day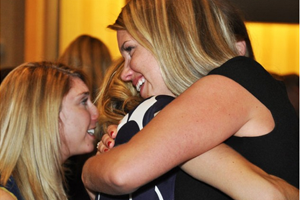 The students were easy to see. Surrounded by well-wishers, they milled around the Denver Hyatt Regency ballroom, complexions a little pale, eyes a little glazed, waiting for the Match Day festivities to begin.
They ignored the pastries and fruit and fiddled with the gold-colored gift bags. But there was no denying the stars of the show. Roped off behind velvet cords were tables with 166 letters holding the destiny of exactly that many soon-to-be physicians from the CU School of Medicine.
And at 10 a.m. Friday, they learned where they would spend their residency years.
Every year in mid-March, the nation's medical school graduates find out simultaneously where they will perform their residencies, which can last between three and 10 years. The students have ranked places where they hope to get that training. Those places have ranked students. Then, they match.
A hush fell as letters were opened and read. Screams and hugs followed. Then, a tsunami of text messages sped around the world to friends and family waiting for the news.
Ramya Mishra was the first to jump in front of a camera simulcasting the event to let her fiance in California and her relatives in northeastern India know she'd be spending the next few years in Oakland, Calif. – her first choice of schools.
Other students followed, letting family in Vietnam, Russia, Egypt, Minnesota, Louisiana and other spots know how happy there were with the news.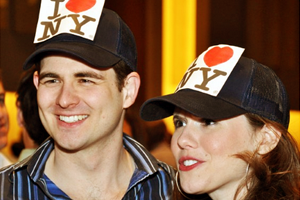 Some performed skits. Ian Justl Ellis and his wife, Sonia, donned baseball caps with "I (heart) NY" placards and performed "New York, New York," ditching the lobster-adorned hardhats and cowboy hats Sonia had made in case one of their other top choices (Maine, Texas) was in the envelope. And of course what's Match Day without the Harlem shake – by costumed medical students.
Tiffany Tello bounded around the room sharing her news of a dermatology placement at University of California San Francisco – her first choice. When asked on a scale of 1-10 how nervous she'd been and how happy and relieved she is now, "All 10s!" was her response before hugging a fellow student at his good news.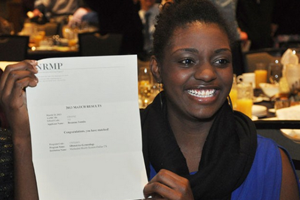 Dean Richard Krugman recalled opening his letter on a March 15 exactly 45 years ago when he learned he'd be moving to Colorado.
"My wife looked at me stunned and said, 'It's brown and ugly there. You promised me water,'" he said. "I told her, 'It's the computer. I had nothing to do with it.'"
He reassured students that even if their placement wasn't their top choice, they would all succeed.
"Whatever happens, enjoy."