STORY
Medical software's international expansion a boon for education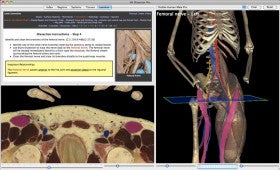 Touch of Life Technologies (www.toltech.net), a medical education and research company born at the University of Colorado, has sold its interactive software products to the 19 campuses of Universidad del Valle de Mexico (UVM). The sale includes the foundational VH Dissector program and complementary instructional software for use in its programs preparing students for medical, nursing and allied health professions at campuses throughout Mexico.
Based on data from the U.S. National Library of Medicine's Visible Human Project, the VH Dissector is a complete interactive atlas of gross anatomy presenting more than 2,000 structures through integrated 3-D and cross-sectional views.  Educators use the VH Dissector in combination with the relevant software tools developed for medical and dental students, medical residents and students studying for careers in physical therapy, nursing and other health fields.
"The VH Dissector will help address the need to train more medical and healthcare providers throughout Mexico and Latin America by providing real experience in human anatomy in a virtual environment," said Vic Spitzer, Ph.D., CEO of Touch of Life Technologies. He teaches anatomy at the University of Colorado School of Medicine and was a key player in the Visible Human Project, which was researched at CU. "Faculty and students can view anatomical structures in various relationships and from angles that advance understanding and streamline learning."
Facilitating this substantial sale of Touch of Life Technologies' medical education software was e-Technology Solutions Corp., a company that for 20 years has provided electronic databases and informational solutions to its customers in Mexico and Latin America. In 2007, e-Technologies launched e-Tech Simulation, which uses simulation as a training method.
"As a provider of information products to academic and scientific institutions in the Caribbean, Central and South America, our partnership with Touch of Life Technologies provides valuable and unique resources to the organizations that we serve," said Jairo Leiva, president of e-Technology Solutions.
Touch of Life Technologies is a medical education company that develops and sells interactive software and medical procedure simulators.  The firm's products provide a virtual learning environment combining state-of-the-art interactive technology with real anatomy from the National Library of Medicine's Visible Human Project as well as higher resolution images. In business for more than a decade, Touch of Life Technologies collaborates with professional medical societies, educators and practicing professionals to create and test next-generation tools to educate and train a wide range of health care professionals and students.