STORY
Library collaboration supports preserving state's cultural heritage collections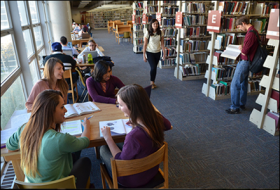 The Center for Colorado & the West at the Auraria Library has been awarded $248,000 for Action! Colorado Connecting to Collections from the Institute of Library and Museum Services (ILMS).
The grant is a collaborative partnership between the Colorado Wyoming Association of Museums, the Society of Rocky Mountain Archivists, the Colorado State Library, History Colorado and the Center for Colorado & the West.
The Center for Colorado & the West (CC&W) is co-directed by Mary Somerville, Ph.D.,  Auraria Library director, and Thomas J. Noel, Ph.D. ("Dr. Colorado"), professor of history and director of Public History, Preservation & Colorado Studies at CU Denver.
The center serves to advance understanding of Rocky Mountain history and to enrich educational experiences for students on the Auraria campus.
Dana EchoHawk, CC&W managing director, will coordinate the IMLS grant activities.
The two-year project will create a network of trained preservation assessors; foster the development of emergency plans and a multiyear training program; encourage individual institutions' responsibility for collections care; increase awareness of collections needs among state and local government officials and the public; and build a sustainable, collaborative Colorado Collection Care initiative among the state's archives, libraries, museums, professional organizations, and government emergency management offices.
Action! Colorado Connecting to Collections will increase the number of trained professionals who can assess institutional preservation needs, increase institutional capacity collections preservation, and strengthen relationships with emergency managers and first responders.
Some 34 percent of all Colorado institutions have experienced a disaster and yet 44.8 percent do not have a current written disaster plan. The Action! Colorado Connecting to Collections initiative will provide training for development of preservation policy planning, Somerville said.
"The statewide educational opportunities delivered by CC&W in the next two years will increase the capacity of organizations and individuals to preserve the collections under their care," Somerville said. "In addition, stronger relationships with local emergency management 'first responders' and coordinated advocacy at all levels of government will increase awareness of collections' care issues and build a sustainable culture of preservation among Colorado's heritage organizations throughout the state."