STORY
Learn, play and win at Employee Services Expos
Information on resources, prize drawings promised at five events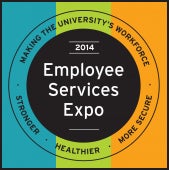 CU Anschutz Medical Campus
Monday, March 24
10 a.m. – 2 p.m.
Trivisible Room, Research 2
CU system
Tuesday, March 25
10 a.m. – 2 p.m.
Conference rooms 501-503
CU-Boulder
Wednesday, March 26
10 a.m. – 2 p.m.
UMC, Glenn Miller Ballroom
UCCS
Thursday, March 27
10 a.m. – 2 p.m.
University Center, Room 303
CU Denver
Wednesday, April 9
10 a.m. – 2 p.m.
CU Building, Suite 150 Conference
Imagine a CU without an Employee Services department.
Your pay would go unprocessed and undeposited.
Say goodbye to free online books and courses that could have gone a long way toward helping you develop your career. No more access to professional financial guidance on your campus. And forget about setting up your benefits elections.
You'd lose access to the health benefits of the Move. program. If you wanted a monthly Weight Watchers membership, you'd pay at least double the current CU rate of $17.17.
Now back to reality: Not only are these resources available to you, but ES will reward you for learning about them and many more at the Employee Services Expos, March 24-27 and April 9, on all CU campuses and the system administration building.
Play a game, win prizes and compete for an iPad: When you attend an ES Expo, you'll receive a ticket, which you can use to enter a drawing for an iPad (one grand prize per campus). For each expo booth that you visit, you can earn prizes— additional tickets for drawing entries—by participating in games that will teach you more about ES.
Learn as you play: Register for an expo today, and you'll have the chance to discover resources you may have never known existed, including:
free courses and training
CU's popular tuition benefit
how your pay is getting a little more eco-friendly
the keys to deciding which insurance plans make the most financial sense to you and your family
how opening a flexible spending account can lower your taxable income
how many people are vying for the opportunity to work at the university