STORY
Gallegos advocates for 3rd Congressional District, rural education
Regent, Faculty Council meet to discuss priorities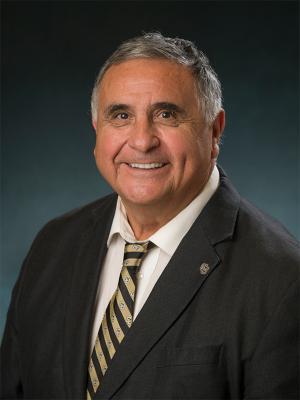 Regent Glen Gallegos may be based in Grand Junction, but he doesn't let the distance from CU campuses and administration keep him from interacting in person with the CU community on a regular basis. Recent participation included the Faculty Council's Oct. 26 meeting at 1800 Grant St., where he discussed his priorities and listened to faculty concerns.
"I really believe in the importance of being a regent from an outlying area," said Gallegos, who represents the state's 3rd Congressional District. "Because in state statute it says the University of Colorado will be a university for the entire state. You can't serve on a board if you're not going to participate and get your hands dirty. I've tried to keep that up, not only to represent my district, but to represent for rural education, which I think is important."
Student affordability and accessibility are among his areas of emphasis, as is representing the state's diverse population. "Our university should represent what the state looks like," he said.
One of many ways CU is serving the state's population beyond the Front Range is via partnerships with other institutions, such as a Grand Junction resident having the opportunity to earn a mechanical engineering degree from CU Boulder. The program is made possible by a partnership between CU Boulder and Colorado Mesa University.
"From the standpoint of how can we do better, I think we could do more partnerships like that," Gallegos said.
Gallegos also expressed support for the board's new direction in calling for a revamp of online education across the system. "I'd rather be at the top of that wave than the bottom," he said.
Michael Lightner, vice president for academic affairs, went into detail on that effort during his update to Faculty Council. He noted the tight time table that has the full Board of Regents considering a resolution on the matter at its Nov. 16-17 meeting at CU Boulder.
"This is out there and it's evolving," Lightner said. The details of the proposal brought by Regent Stephen Ludwig to the University Affairs Committee are likely in flux, and Lightner encouraged council members to share the information with committees and colleagues across the campuses in order to foster input.
Also at the Oct. 26 meeting, the council heard from Ken McConnellogue, vice president of communication, on the status of CU's systemwide marketing campaign. As part of a "creative refresh," the All Four:Colorado theme has evolved into All Four:One.
"We bring one big thing to the table, which is, we make Colorado a better place," he said.
Comparing market research from this year to baseline research from the year prior, the campaign – consisting of TV, print, digital, outdoor and social media advertising and promotion – had moved the needle on awareness of CU around the state.
"We're making some progress and will continue to," McConnellogue said. "We've got a ways to go with this and I'm pleased with where it's at."
The campaign's primary audience remains Colorado.
"It's surprising to me and others how little people know about our university and what we do," he said. "We want the people of Colorado to be more aware of our contributions and the good work that you all do."
Faculty Council also continued work on reviewing and providing feedback on Article 5 and Policy 5, which is currently being examined as part of the systemwide review of Regents Laws and Policies. The council's Educational Policy and University Standards (EPUS) Committee has provided early suggestions in anticipation of a document for review being readied by early December.