STORY
Five questions for Wendy Guild
Passion for sports, organizational research has led to winning business program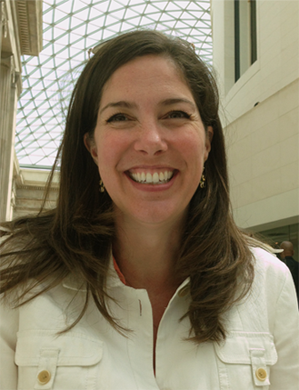 The sports and entertainment industry generated about $1.75 trillion globally in 2012, and as revenues continue to increase, the business model becomes more complex. Marketing, management and finance, in particular, demand more technical knowledge, skills and industry expertise from prospective employees than before. It's one of the reasons Wendy Guild launched the Sports and Entertainment Management program in 2007 at the University of Colorado Denver.
Guild graduated from MIT's Sloan School of Management with a Ph.D. in organization studies in 1999. She began her academic career at Emerson College, where she directed a graduate program, and it was here that she realized she enjoyed teaching as well as administrative duties. While at a conference in Steamboat Springs in 2002, she fell in love with a man who lived in Boulder and headed west. The two were later married and she began working at CU Denver's Business School.
It was another man in her life -- her father -- who influenced her career choice. "I grew up listening to his stories of his challenges managing people. I thought people were endlessly fascinating," she says. "Realizing that adults spend most of their waking hours at their jobs, and also recognizing that I might be able to make a living studying or consulting to people at work, I knew at an early age that I wanted to study life in business organizations."
For her dissertation, she focused on a ski resort and detailed how individuals' identities were instrumental in motivating employees to do their work. Other research has centered on the role of the producer as the "organizational glue" in the Australian film industry. Recently, she presented a paper at a conference on how sponsorships are sold inside sponsoring organizations with a focus on the argument and process behind spending large sums to sponsor events like the Olympics or putting an organizational name on a large venue.
1. How did the program get started and in what ways do students learn about sports and entertainment management through the program?
Six years ago I launched the Sports and Entertainment Management Graduate Specialization, and one and a half years ago we started offering the Sports Management Undergraduate Specialization. This followed a number of conversations with Dean Sueann Ambron about the exciting local industries that might require well-trained talent – industries that students might be excited to study. Dean Ambron helped open the doors to a number of local executives who were tremendously helpful and became part of my advisory council, steering the design of the program, and – to this day – playing a critical role in what we do and serving as speakers in our courses.
Many of our students love sports and/or entertainment. If you teach the business side of something they have a passion for, students are going to do the reading, they're going to be thinking about the subject, and thinking about the news of the industry differently. That's when you get their brains engaged. It has an impact because they'll go on to talk about what they have learned and remember what they have learned. Our class discussions are awesome. It's not like pulling teeth; it's herding cats. They do all the reading and come prepared. Even if they don't end up working in the industry, they learn important business principles in our courses. Jobs in the industry aren't always easy to find but 100 percent of our students who want internships have been able to find one in organizations such as Kroenke Sports and Entertainment, the Broncos, the U.S. Olympic Committee, AEG Live-Rocky Mountain and AEG HQ, and the Jimmy Fallon show.
The program's most innovative offering is our London Calling study abroad course each year during the Maymester term. I just returned from leading our fifth cohort of students to London for two weeks of site visits and lectures from industry leaders from organizations such as Chelsea Football Club, Wimbledon, Twickenham/Rugby Football Union, BT's sponsorship of the Olympics, Lord's Cricket Ground, the O2 Arena, the BBC, and the UK Department for Culture, Media and Sport. It is a bit like the Amazing Race as we dash around London to these iconic sites, often visiting two organizations a day. It is a fantastic learning experience for the students and I just love providing this opportunity for them. It's easier to assess the business side of an organization when they're not fans and aren't caught up in what the coach is doing or a recent trade.
2. We've been reminded locally that "sports is a business" with the recent firing of Denver Nuggets coach George Karl, the search for a more "business-minded" athletic director at CU-Boulder as well as changes at other universities and sports organizations. Sometimes the reason cited is that the team hasn't won a championship. Is there too much emphasis on the ever-elusive trophy? Is the push for more profit ruining the "game" or the experience for fans?
Winning is terribly important for sports organizations; nowhere is it as obvious that success begets success. Depending on the sport, there is usually some kind of direct pay-out for a championship win (either because of a cash prize and/or media rights revenue sharing and ticket sales, merchandise sales, etc., from the championship event). Of course, the fans, the sponsors, the players, the team employees, etc. – everyone on the winning side is thrilled and gains emotionally, and often financially:
Sponsors affiliated with a property that is a winner are willing to pay more in the next round of contracts and new sponsors want to sign up.
Fans want to support winners. Winning sells more premium seats and corporate purchases are higher, too. Business people want to entertain their clients with good experiences and a winning team provides a better experience than one that loses. The same is true of donors to universities – they want to support winners. And winning attracts new fans and donors.
Players want to play for winning teams, and a team might even be able to pay them a bit less for this opportunity.
Employees want to work for winning teams and want to work in organizations where people are happy. Employee retention is much higher in teams that win.
So when teams are winning, everyone is happier and revenues are higher. This means a team can pay for more talented players, coaches, etc., which then can lead to more success. Start losing a lot and the opposite trends are all visited on the losing team.
Is the push for profit ruining games? I think a way to take on this question is to look at what leagues are doing to ensure competitive parity and ensure that the distribution of the winnings is fair. Should large-market NFL teams – with a very large fan base -- get a much larger share of the NFL media rights deal? Now they don't. Why? Because the NFL wants to ensure that, within reason, competitive parity is maintained. On the other hand, MLB teams get to manage all of their own local media rights. You see a large-market team like the Yankees effectively owning the organization (regional sports networks, in this case, YES Network) that holds these rights and serves a huge market and they benefit financially. It is well-known that the Yankees do their best to stock their team with the best talent money can buy and they have the money to buy high-priced talent.
This leads to a second question: Do you have to pay top dollar for talent to win? Generally, the answer is "yes," but it is more complicated than one might think. It is more important in professional team sports to field a team that has talented players in all of the key positions who can work together well and can execute well-designed strategies that come from good coaching. But having a star player certainly helps by bringing attention, talent and leadership to a team. Attention allows the organization to bring in more revenues, which allows the team to pay for other key players. The benefit of top-level talent is obvious, but great talent has an impact on everyone else by raising the standard for all other players. And hopefully, your star is a team leader who helps bring out the best in everyone. The best strategy for a team is something along the lines of a star plus a "Moneyball"/farm team approach. Buying cheaper players with specific, overlooked talents for below-market cost, combined with growing your own talent in a farm team can get you a long way in sports.
That said, celebrity is huge, and the leadership that goes with it can sometimes catapult a team to the next level. The Broncos are a great example of this with the signing of Peyton Manning. He has brought the attention, talent and leadership that has translated to wins and higher revenues. Joe Ellis, the president of the Broncos spoke in my class last spring. He recounted what happened once the news broke of the signing of Peyton Manning: The Broncos received significantly increased interest in their premium seat sales – both club seats and suites – in addition to an uptick in sponsorship interest and greater merchandise sales.
So winning, stars, broad-based talent, teamwork, great strategy, etc., all matter, but as the saying goes, it is anyone's game on any given Sunday. Luck is, of course, an element.
3. But there's only one champion per sport per year so is it correct to say that organizations don't necessarily have to win the big prize to make money?
The interesting thing about sports is that very few teams make money. The Congressional-ordered Mitchell report in the '90s gave us an unprecedented peek into MLB team finances, and it is clear that many teams struggle to break even. Their expenses are so high – player payroll and facilities being the primary expenses -- that many teams either barely break even or lose money. But before we rally crowdsourcing funding for our favorite team, it is important to keep in mind that the value of the franchises have increased exponentially over the years. This means teams have a cash-flow problem. They can only really tap into the increased value of the team when they sell it, so they have to find ways to increase revenues to keep up with grossly inflating expenses.
Sports teams have to deal with the fact that there's an arms race for pay for players – much like there is for CEO compensation. Teams want the best talent and the competition for this talent is driving the price through the stratosphere. At the same time, teams (in some leagues) are working with a salary cap so they are on a teeter-totter: They're chasing talent; they want to pay talent more but have to balance a salary cap. Or they are the Yankees and don't care about any of that and throw money at players. League rules matter as to whether or not the system supports both competitive parity and potential for profitability. If there's a salary cap, this can help curb the inflation in payroll costs, and this can allow teams to stay financially viable in terms of cash flow. But even with supportive league rules, it is not easy to make money in sports.
In the NBA, MLB and NHL, smaller-market teams aren't able to tap into the same kind of revenue base that big-market teams have. If the owners are running the organization as a business and don't want to write personal checks to cover annual shortfalls, then maybe they opt for mid-level talent and cross their fingers. Teams that follow this strategy can make money. However, it's tricky to get enough players together who will do well enough to draw people who will buy tickets. This means sales, marketing, customer relations and in-game entertainment teams are critical for keeping people coming and tuning in. The owners that go after top-priced talent with an eye toward winning a championship are playing a risky game. Only the top-performing, larger-market teams are likely to generate the revenues to cover the cost of this strategy.
4. How has the business of sports changed over the years?
The money is bigger and technology is changing and organizations need to know how to capitalize on that.
People used to just go to a game, but now the home experience is eclipsing the game experience. You have a massive television screen, your own food and you can sit in a Snuggie without anyone swearing obscenities next to your child or spilling beer on you. Media contracts are healthy and growing like crazy because a sports event is one of the few things on TV people like to consume at the exact moment it is happening. Advertising rates are high for live sports because advertisers can be sure that people are in front of their televisions during the broadcast.
So while media revenues are increasing, teams have to compete with the home experience and try to create an exciting environment at the game to keep people coming. A lot of the revenues come from suites, club seats and high-priced tickets, but these folks aren't the ones generating the buzz. The in-game experience is something organizations consciously manage by selling general admissions tickets at lower prices so the arena is filled with all the die-hard fans who are drinking the beer, screaming, making the thunder in the stadiums, and creating the atmosphere.
Sports organizations constantly ask for feedback to ensure people are getting the experience they want. One of the things they want is better technology – Wi-Fi, for instance. Stadiums are trying to update their technology for ticket buyers but also for the organizations so they can manage their own social network presence during the game and otherwise.
There's also the issue of making sure you provide the right type of entertainment for your demographic. Teams are giving ticket buyers an experience rather than pure sport. As such, they introduce entertainment into the game – music, dancing, mascots, games, giveaways, etc. – to create an exciting experience for fans. Teams are betting that the entertaining aspect of the experience will keep people coming back even when the team is losing. They need people to continue to buy tickets to keep the machine going. So this brings us back to the question of whether business is degrading the true sport. There's no final answer because people will consume what they think is interesting and they will consume it in a way that works for them. For instance, if old-school fans don't like the style of the television commentators during a sporting event, they might mute the TV and listen to radio coverage. Teams have to craft an experience to provide entertainment to different types of people and allow access in different ways. In the end, it's still a show.
5. What are some leisure activities that you enjoy?
Watching grand slam tennis -- the Wimbledon men's final was amazing (Sunday) -- enjoying wine and food, working it off at the Bar Method, skiing, swimming, biking, hiking, kayaking/canoeing, and traveling with my family. Walking Bella, our silver lab, and enjoying the company of my good friends and dancing with my son.