STORY
Five questions for Susan Szpyrka
Vice chancellor sees UCCS uniting over food revolution on campus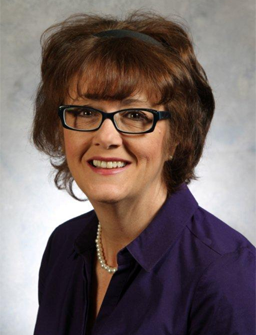 It wasn't part of any university strategic plan, but more of an organic effort, with experts from all parts of the University of Colorado Colorado Springs community coming together to increase food options on campus while turning dining ventures into economic and educational opportunities.
Vice Chancellor for Administration and Finance Susan Szpyrka's responsibilities cover a variety of areas, including food services and the Office of Sustainability. Her goal is to help develop strategies that will take the institution from the place it occupies today to where it needs to be in 2020 to accommodate student growth, remain attractive to students, and provide support and services to faculty who are delivering the core mission: education and research opportunities.
In 2008, Szpyrka, with the help of a team of university members and student input, began an effort to refurbish an underused and underperforming social and food-service area. The plans soon snowballed to involve other dining areas, a greenhouse for fresh produce, and future projects that include a new coffee house.
Recently, Szpyrka served as executive producer for a movie, "Fooducation: A Revolution of Food & Eating at UCCS" to draw attention to the way the university grows, serves and manages food.
1. How did the "revolution" begin?
We had an area that was a game room with four pool tables, a snack shop that looked like a concession stand and some games. It was a lot of space that the students weren't using, and, as a food service establishment, it was not pulling its weight financially. It wasn't covering the basic operating costs and salaries, so it wasn't a good model to have. We needed something about which students would be more responsive; we needed to have a pub. A survey and focus groups gave us feedback on what students were looking for and they confirmed what I thought. We began putting together a budget to remodel the area into a significant social space as well as a viable food service operation. The key strategy around Clyde's Pub was to make it an exciting place. A food service advisory group had to make some budgetary decisions, but I knew the vibrancy of the space and how it looked would bring customers in the first time, but that the food would bring them back. We wouldn't get the customers if we didn't have the right menu options.
In the space before Clyde's, we had very few food options and all of them were bad. Of course students will eat junk food. Don't we all? So the goal wasn't to create a restrictive menu, but to provide options. Before Clyde's, the only options were hot dogs, potato chips and nachos. There wasn't anything green to eat.
As we were making the transformation, I had individuals on campus who thought this project would fail, that we would never be able to make it into a financially sustainable pub that students would use. But it's been successful beyond anyone's expectations. There are times when it is at capacity and we can't let anyone else in the space.
2. And the effort snowballed over the past few years?
Right after Clyde's opened, it was clear we needed to do something with what was called the Overlook. Janel Owens, an assistant professor of chemistry and biochemistry, sent me an email one day. She was concerned about some of the food at the Overlook and the sourcing. I said I needed her as adviser and she joined the committee. We hired a design team, studied the dining area, and decided we would have a salad bar at the space, now called Café '65. We didn't have a salad bar before. If you wanted anything with lettuce on it, you had to have a club sandwich or a taco. We also wanted international options. We needed to get rid of the pizza vendor, too. You had to buy the pizzas frozen, run them through the cooker and put them in a box. That wasn't meeting our sustainability goals. We were throwing so much stuff into the landfill. So we got a pizza oven and stayed within the budget.
We're also planning a new, stand-alone coffee shop, but that still needs Board of Regents approval. It's about a $2 million capital project. We want to build it in a sustainable manner – we want to try for Leed Platinum rating – and it will have a beautiful view of Pikes Peak and outdoor space that will make it another focal point for student and faculty activity.
3. Why did you choose to produce a movie about the "food revolution" at UCCS?
When it became clear that Clyde's would succeed, it was suggested that I start documenting it and write an article. I thought it was a good idea, but I thought students wouldn't go to a professional journal to read it. Students really are our target audience. I thought a video would be better to explain to them why we were making these changes and how it fits into our academic mission. Now they can see that so many people were involved and invested in having local food, healthy food and sustainable delivery systems.
As the executive producer, I provided the framework for the documentary, but I brought in help from many experts. David Nelson, a professor in our communication department, was extremely helpful in determining the structure. Important faculty who have helped, who actually started spearheading this years ago, are Tom Huber, Carol Huber, Janel Owens, Nanna Meyer and Judith Rice- Jones. All of them were instrumental in getting people on campus to think about this and I wanted to give them attribution. This was a team project and it was important to allow the team to bring in their ideas. Kelsey Hunt and Tamara Moore brought a lot of creativity to the documentary. I was focused on the right framework, on making sure we had the right people contributing, and that we stayed within budget while educating students.
4. What else are you doing to educate your consumers about better choices?
At Café '65, for example, customers have the opportunity to review nutritional content, calories, fat and carbs, but the information is on paper, in an old-fashioned binder. I've talked recently with Sodexo (UCCS' facilities management company) about getting an app for this so students could use their phones to scan a code above each food platform to find the menu and the information for the food they are eating.
We're also educating them through menu variation. You can still get a hamburger and fries but there are other options. If we didn't serve those foods, students would go somewhere else to get them. For years, we were on the top of this hill with nothing around us. You had to leave campus and drive to a restaurant. But that's not true anymore. We had to go from being a food service of default to a food service of choice. Now you can choose between Clyde's Burger, made from organically fed, hormone-free beef, or a regular one. It's astounding how much more the Clyde's Burger is chosen.
Faculty is clearly a part of how we educate by what they communicate and how they mentor. And the Office of Sustainability set up the format for composting, recycling and landfill separation at Café '65. We have sustainability goalies that educate the customers about what goes where. Right now we have very few things that need to go into a landfill. That's a form of education. We also don't sell bottled water at Café '65. What we do have is a bottle refilling station that is accessible all of the time, and that's a form of communication.
When I renegotiated our contract with Sodexo, we called for the elimination of Styrofoam products by May 2012 in all of our kitchens, including in coffee shops.
5. How much of the food that you serve comes from local producers?
It depends on time of year. There's not much available in the winter, which is what led us to look at what we could do to have even more locally grown food. The student farm at Heller Center was taking off and I was working with Judith Rice-Jones and Carol Huber to see if we could allow the farm to sell some of the food they were growing. As we were going through the process, I wondered about the university growing more food. It's hard to get tomatoes grown in Colorado in February. That's why we've built a greenhouse. We have to get the soil correct and see how crop rotations work in the greenhouse, but we plan to deliver fresh produce to the Café '65 kitchen at the beginning of fall. Our goal is that the majority of the produce in our salad bar will be university-grown. Then we'll see how we can spread that out to offer internship opportunities and work it into the curriculum.