STORY
Five questions for Sherry Morreale
Director, graduate studies in communication, UCCS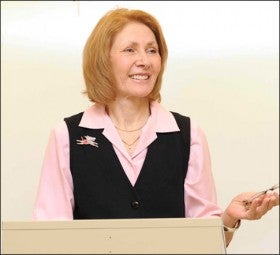 As the way we communicate evolves continuously, scholars such as Sherwyn "Sherry" Morreale are at the forefront of change.
As the director of graduate studies in communication at the University of Colorado at Colorado Springs, Morreale admits students into the program, acts as primary adviser and ensures that the graduate curriculum is timely and useful to students. One way she has accomplished that is to incorporate emerging technology and related practices in core and elective courses. She also has refined a public speaking course to better address the challenges of the 21st century by teaching students how to create and deliver webinars and Web conferences that will be presented to multicultural and multinational audiences.
She also co-chairs the Communication Department Assessment Program and recently was awarded the Samuel L. Becker Distinguished Service Award for outstanding research, teaching and service by the National Communication Association (NCA), the oldest and largest organization for communication scholars in the world.
In 1978, after leaving Baltimore where she was reared, Morreale came to Colorado and took a UCCS communication course taught by Pam Shockley-Zalabak, now the school's chancellor. During the next 11 years, she earned her bachelor's degree in communication, a master's degree by commuting to UC Denver and a Ph.D. In collaboration with Shockley-Zalabak, she developed and directed the campus' Center for Excellence in Oral Communication before leaving to work for eight years as the associate director of NCA in Washington, D.C. She returned to UCCS in 2006.
Morreale embraces the way communication and life varies as time passes. "I believe in changing and keeping going," she says. "My mother's favorite expression is, 'To cease to change is to cease to live.'"
She also believes strongly in her responsibility to serve her higher education community. "I'm in a position to get students admitted to the program and also raise the bar for them and encourage them to grow. It's my responsibility to live up to the expectations of the job and to make a difference in some way for others."
— Cynthia Pasquale
1. In a previous position, you helped define communication studies for the Department of Education (DOE), among other projects. Tell me what changed and why?
Large facilities like the DOE cannot stay up to date with changes going on in all disciplines, so every 10 years they invite experts in those disciplines to revise their descriptions of instructional programs. Communication was described in a very narrow focus and some of what communication has come to do was included in other disciplines. Communication in education started out as public speaking, but the study of communication is about communication messages wherever they occur, in a variety of contexts and situations. None of that was in the DOE description. Working with other associations that address communications, we extended the understanding and description of communication to include what some might consider peripheral areas such as political communication. Also, speech and rhetoric was under English in the old program description. That may seem trivial, but the programs are sent to all college campuses and are used to categorize curriculum for majors. Funding also is impacted.
2. Part of your scholarly work involves conducting research and writing books. What are you working on?
I engage in research and publish research studies. The research often focuses on the communication discipline in general, including what all students in higher education should learn. I also just completed a book with Chancellor Shockley-Zalabak about what a person in an organization needs to know and do about building trust. I recently finished a book about public speaking that was introduced at the NCA convention in November. The next big project is going to be a book I'll write with two other authors about a basic core course that includes interpersonal communication, groups and teams, and public speaking.
3. How has the Internet and social media changed the way you teach or think about communication?
As communication scholars, we should know the impact of social media on society, but we don't know it sufficiently yet in terms of research. By the time we know the impact, it will be something else. What we have to do is change, not by giving up the high standards of rigor, but by publishing research more quickly. Of course it's not just research that matters, but we also need to consider the philosophical issues of how people are using social media, and who is using it, and how it is impacting people and changing the way we communicate and live.
I incorporated social media in my public speaking textbook. For instance, I discuss how to effectively use PowerPoint when addressing world audiences. It's a new skill that some people don't have. In presentations, people might turn their backs to the audience or spend five minutes trying to find the relevant video, then slides start flashing and people's minds begin to wander. The idea is to get graduate students to figure out what works. PowerPoint, for instance, is more effective if it includes strong visuals without text so the listeners focus on what the speaker is saying.
4. What are the components of good communication and who would you consider a good communicator?
There are multiple communication contexts and situations, but there is a set of components we can talk about that applies to all contexts. This "competent communication" consists of three components - motivation, knowledge and skills. A communicator needs to be motivated to communicate and needs to know and understand the process and what fits in that particular context. But even if motivation and knowledge are there, if the speaker doesn't possess the needed skills, like how to use eye contact or how to engage in appropriate self-disclosure, all the motivation in the world won't work.
Potentially, communication could be used for negative purposes. Hitler, for instance, used motivation, knowledge and skills for evil purposes. So I personally add ethics to the other three components. You must communicate in a way that is in your best interest (as speaker) and the best interests of everyone else involved in or impacted by the communication event.
Another set of standards is based on two other components, appropriateness and effectiveness. Does communication get the job done and does it work well in the situation for everyone involved? That's the kind of stuff we teach in basic courses.
President Obama is a very good public speaker. He is really effective and he's grown as a public speaker since his campaign days. He's more dynamic now than when he was on the campaign trail. By comparison, Hillary Clinton is a solid public speaker and has the necessary knowledge and skills, but she is not an effective motivator.
5. Outside of work, what activities do you enjoy?
One of the reasons we moved here was because of outdoor activities. East Coasters do things that are indoors really well because of the bad weather. Outdoor activities are what we do well here in Colorado. I enjoy hiking and snowshoeing. I also like art and theater. Most of my family is in Colorado and we do things together. My son, Jesse, is a graduate of UC Denver and is a successful entrepreneur who owns three restaurants, two bars, a hotel and an office building. My daughter, Samantha Klingenberg, is a full-time mom and architectural designer in Colorado Springs who specializes in restoration and historic preservation.