STORY
Five questions for Roberta Capp
Emergency medicine experience informs research on barriers to health care access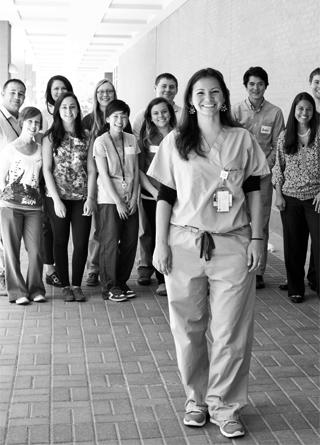 In many ways, health insurance determines a person's access to care, and no one knows this better than Dr. Roberta Capp, assistant professor of emergency medicine.
Originally from Brazil, Capp came to Boulder from Florida after high school with her mother and sister. She earned an undergraduate degree in molecular, cellular and developmental biology at CU-Boulder. After earning her medical degree at Harvard University, she intended to become a neurosurgeon until she began surgery rotations and realized the impact that insurance can have on care.
"I realized that people were being turned away because of the insurance they had and their inability to pay for care," she said. "I thought that was pretty messed up, especially given that, growing up, I was pretty poor and we were uninsured at some point. I really wanted to be able to help anyone who walked in the door."
After Capp finished a fellowship, she reconnected with a Harvard mentor who had become chair of the emergency department at CU. He recruited her to the School of Medicine, where she has been since August 2013. She splits her time between her emergency medicine practice at the University of Colorado Hospital and her research, which focuses in part on emergency access and avoidable emergency department visits.
This summer, she developed the Hot Spotters Student Program to teach students in a variety of disciplines about the needs of underserved populations and ways to improve the access and quality of care for patients who visit the emergency department frequently.
Her No. 1 hobby, she says, is traveling, and no matter how much she likes a place, she won't return because there are so many new places to visit. In September, she plans to travel to Spain and northern Europe.  Her wish list includes trips to New Zealand, Australia and Africa.
1. Personal experiences seem to have influenced your career choices a great deal. What were some of those events?
I wanted to do research because I was always the kind of person who liked to ask questions and problem-solve with objective data. I also really like to know a little bit about everything and be able to do it well and I couldn't do that with a specialty other than emergency medicine, where we really do get to see everything.  It's a pretty chaotic environment, but at the same time, patients are at some of their most vulnerable states and you get to be there to help them get through it. You can make a pretty special connection with patients.
My research interests also involve personal experiences. When I started medical school, my mom came out to visit, and while there, she was diagnosed with ovarian cancer. She had no insurance, and we struggled to get her enrolled in Medicaid. Back in Colorado, my sister helped her get through the system, but we struggled to get her the care she needed. As I went through my residency and fellowship, I learned about community-based research. You learn about the struggles people with very little resources have and, because they have no other options, they end up turning to more expensive hospital care rather than primary care. All of my research focuses on helping the underserved population get more coordinated care and the right care at the right time at the right place. There will always be emergencies, but you want to provide other avenues for people who turn up at the emergency department (ED) because they couldn't see a primary care doctor or didn't have transportation.
I also want to educate people as they come through the ED about available resources and how to break down the barriers that are associated with getting the right care at the right time at the right place. When patients don't know whether they'll have food or a roof to sleep under at night, it's very difficult for them to think about making a doctor's appointment that will happen two weeks in the future or getting a prescription filled. All of their worries are about today.
2. Recently you published research on health insurance and reasons for emergency department use. What did you find?
You would think that by having an insurance card that you would be able to see a doctor at any time at any place, but that's not necessarily the case because of the differences in the payment system attached to care. Private insurance reimburses a hospital or provider at the highest rate, followed by Medicare, and finally, Medicaid has the lowest reimbursement rate.  Primary care providers will not always accept new Medicaid patients because of the low pay. And that affects their health. Patients with Medicaid are at the highest risk for using the ED frequently, compared with others with different types of insurance because they have access issues. For instance, they may not be able to get to a doctor soon enough.
3. Did this research help you develop the idea for the Hot Spotters program?
The idea came about during my fellowship, when I started a patient navigation program using members of the community. The program helped Medicaid patients who frequented the ED more than four times a year by helping them make appointments or reminding them of appointments or figuring out transportation or other needs. If they were homeless, we tried to figure out a housing situation. I thought it would be great to get students who will be future leaders in health care to learn about these barriers and how they impact care. It's what I think medical education should be like, multidisciplinary and patient-centered.
What I want to do with the Hot Spotters program is educate the students about the social determinants of health. Caring for patients is not separate, but part of your life, and the work you do is meaningless unless you truly understand that component of help and also provide a service that will help break down the barriers. I also want to evaluate some patient-related factors that could be associated with future frequent ED use beyond health care issues, so it is a multi-fold program.
4. The program began June 1 and is just over halfway through. What does it entail, how is it going so far, and will you repeat the program?
The program is very ambitious. We wanted to involve students from multiple disciplines because we work in teams in health care, but our education is all done solo. We have three med students, one nursing student, four pharmacy students and three undergraduates. It's more helpful to have perspectives from medicine and nursing and pharmacy.  The students are giving us real-time feedback and we get a chance to see what works and what doesn't.
The students are conducting surveys in the ED to determine a patient's insurance and the barriers to access to health care. We have weekly lectures and site visits where we go to different areas in the community to learn what resources are available. That helps us provide resources to high-risk patients who have been emitted multiple times or receive a new, bad diagnosis. We help them navigate through the health care system. We also contact the Aurora Fire Department to have a crew go to a patient's home to see if the person was able to fill a needed prescription or if they have other barriers.
I'm not sure if we'll do it again. Right now, it's volunteer-based and I supplied the little funding we have to pay for uniforms and field trips. To sustain the program, we would need outside funding or support from the school.
It's been so eye-opening for the students, patients and me. Some students feel intimidated to ask whether a person has recently eaten or is homeless. I had them write a reflection piece about it and one student said he was shocked to learn that a patient was going without food for most days in a month.
5. Are there any events you've experienced during your time at CU that have stuck with you?
Sadly, there are many of those. When you connect with people, you want to help everyone but you can't. When I started my job here, I saw a patient in her 40s with a diagnosis of bladder cancer. She came into the emergency department with pain, but because she had no insurance and her Medicaid wasn't approved, she could only be treated for the pain. At the time, I thought, 'Oh, my goodness, this person could benefit from surgery soon.' But to do that she would have had to have Medicaid approval right away. It was bureaucracy, because I knew she met the criteria. We tried to make calls to clinics but they wouldn't take her. Then, three or four weeks later, she came in again. We re-checked her blood work and found that the tumor was growing fast and her kidneys had shut down. The woman had to be admitted in much worse shape all because she couldn't get surgery.
It breaks my heart that health care can change people's lives depending on whether they have an insurance card. But there are a lot of people – physicians as well as administrators – who are looking at the issue of health care access and how we can improve it and that is exciting.