STORY
Five questions for Robert Vogt
Students' new literary magazine links CU Denver and its International College at Beijing
Robert Vogt recently finished his first year as a member of the University of Colorado Denver's English Department at the school's International College at Beijing.
The courses there are taught in English and degrees earned are awarded by CU Denver. He taught Core Composition I and II and Great Works in British and American Literature, and worked 10 hours each week in the Writing Center.
While he says he is not close to being fluent in Chinese, he is "working to fix" that. Vogt said he applied to the international position "largely because – like many people – I was frustrated by the way that colleges and universities exploit adjunct professors in the continental U.S. I had no idea how much I would love teaching in Beijing."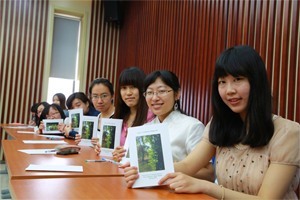 One of the many highlights of the year was the publication of Lynx, the school's first English-language literary magazine, featuring student poetry, prose and personal essays. The title refers "partially to the University of Colorado Denver's mascot, but also, in a homophonic sense, to the links we hope to create – between countries (China and the United States), languages (Chinese and English), and campuses (in Denver and Beijing)," wrote Vogt in the edition's introduction. The 44-page magazine also includes photographs.
Vogt said he was inspired to become an educator by his parents – both educators. "My father was a P.E. teacher-turned-administrator and my mother was the 'writing expert' at a local elementary school. Although both of my parents are currently retired, I still ask them for advice on a regular basis. They are the best teachers I have ever known."
1. Why did you choose to publish a literary magazine? What kinds of challenges did you face?
Last fall, several of my students expressed interest in a creative outlet, something they did not have access to in elementary, middle or high school because of the National College Entrance Examination (commonly referred to as the Gaokao), a high-stakes test that makes the SAT look like a walk in the park.
The challenges I faced were minimal – namely, that students didn't have much experience with this type of writing. The rewards, on the other hand, were fantastic. When I saw the beaming faces of our student-writers at our publication party, I realized that we had stumbled into something good.
Because our magazine was a first-time effort, there was no formal theme. To be honest, I wasn't sure we would receive enough material to produce an entire magazine. Fortunately, we had 10 writers and one photographer (all students) submit creative work. Next year, we hope to publish material from faculty members as well.
2. What are some of the things you love about teaching in China?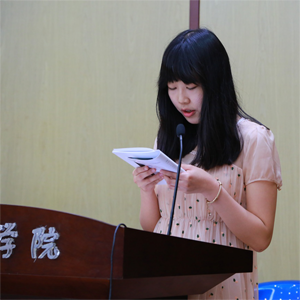 The thing I love the most about teaching in China is the level of commitment we get from our students. As a former newspaper copy editor, I am compulsive about identifying the errors in my students' essays. It is not at all uncommon for a student to correct every single error that I identify then schedule an office-hours appointment to make sure he or she did so correctly. I often receive late-night emails from students who have questions about the connotations of English words they're not familiar with. It is incredibly fulfilling to work with students who are so engaged.
3. What is it like working thousands of miles away from the university's base?
The work environment at ICB is the most intellectually stimulating one I've ever encountered. At the end of finals week I went out for pizza with a group of economics professors, and the topic of conversation at dinner was … economics. During their "leisure time," my colleagues couldn't help talking shop! I cherish the time I spend in my office because the energy and passion of my fourth-floor colleagues is incredibly contagious.
4. What are some leisure activities you enjoy?
I write a weekly sports column for The Global Times, an English-language newspaper published in Beijing. I also enjoy cooking, possibly because it's so similar to writing. In each case, you create something from scratch, and the finished product either meets your expectations or it doesn't. My recipes probably have more red ink on them than my students' essays because cooking, like writing, is all about revision.
5. Do you have a favorite item or artifact that you keep on your desk, and if so, what is it and what is the story behind it?
On my desk, I keep Polaroid photos that my students have randomly taken with me. At the risk of dating myself, I'm thrilled that Polaroid cameras still exist. I didn't realize this was the case until I discussed Amy Tan's short story, "A Pair of Tickets," with my students. And the fact that my students carry Polaroid cameras in their backpacks is pretty cool.