STORY
Five questions for Melanie Shellenbarger
History of summer homes illuminates connections between past and present
Across the United States in the early 1900s, the wealthy often built second homes in desirable seaside and mountain areas. But as the economy grew and modes of transportation increased, the middle class also began to build cottages and bungalows devoted to recreation and leisure. In Colorado, these summer homes ran the gamut from small and rustic cabins and cottages to a few architect-designed, picturesque manor houses, but they were enjoyed by a broad range of society.
A new book by Melanie Shellenbarger, a senior instructor for both the Denver and Boulder campuses and a research associate at the Center for Preservation Research, examines the legacy of Colorado's early summer homes. "High Country Summers," says Shellenbarger, "brings a fresh, multicultural perspective to an often overlooked dwelling. It demonstrates that Colorado's early summer homes were not simply houses enjoyed by the privileged and wealthy, but clearly crossed the boundaries of class, gender, and race. They offered to their inhabitants a vast array of recreational and leisure experiences and opportunities for individual agency and invention, and helped shape ideas about the American West and its landscapes."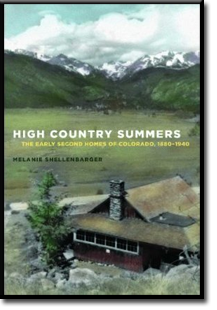 Shellenbarger worked for a "couple of decades" in management consulting and as a designer on large commercial architectural projects.  She was interested in pursuing a graduate degree in architectural history, but current College of Architecture and Planning Dean Mark Gelernter suggested she bypass a master's degree and jump into a Ph.D. instead. For the past eight years, she has taught a variety of classes including architecture history, American architecture, modern architecture, and various cultural studies seminars.
Her research interests are centered on the home, a pursuit she says, that may have been nurtured when, as a child, she enjoyed tromping around residential construction sites with her father who was a homebuilder. She also studies the intersection inherent in the landscapes of wilderness and culture in the American West and how the study of the built environment informs their interpretation.
1. Where were these homes built, and what was their impact on culture?
"High Country Summers" focuses on four areas along the Front Range of the Colorado Rocky Mountains from 1880 to 1940. Rocky Mountain National Park and its easterly gateway city, Estes Park, drew summer homeowners desiring vigorous, outdoor recreational opportunities amid a reasonably genteel village with mail delivery, tearooms and a few fine hotels. The "recreation residences" or summer homes of the national forests speak to an unusual chapter in U.S. Forest Service history, when summer homes were not only allowed but encouraged within the national forests. Lincoln Hills was one of only a handful of African-American summer home resorts across the United States and the one in the Rocky Mountain West. The foothills west of Denver, home to the city's Mountain Parks, served as a magnet particularly for Front Range urbanites, including members of Denver's social elite.
Lincoln Hills was located between Pinecliffe and Rollinsville, less than 40 miles from Denver.  While it attracted buyers from all over the country, it became the mountain destination of choice for many African-Americans living in or around the Five Points area in Denver, in large part because of the easy access via railway.
Lincoln Hills was started by two Denver developers who platted 1,700 lots on both sides of South Boulder Creek in the mid-1920s. Almost 500 buyers purchased more than 900 lots, but the Great Depression intruded and estimates suggest that only about 50 cabins were actually built. In truth, Lincoln Hills served as more of a day tripper's destination for Denver residents who would take the train out on Sundays and enjoy the recreational amenities offered there. It also was home to two enduring African-American outposts: Winks Panorama Lodge and Camp Nizhoni.  Obrey Wendell "Winks" Hamlet built an inn and rental cabins that drew weekend guests and visitors in search of the savory meals served up by his wife, Naomi. Camp Nizhoni was a summer camp run by the Phyllis Wheatley Branch of the YMCA, gathering 20 to 30 girls at a time for two-week camping trips. Lincoln Hills not only speaks to the important heritage of African-Americans in the Rocky Mountains, it speaks to the pluralistic and multifaceted character of the American west.
2. Did you find anything surprising as you researched the book?
First, many of these homes are still owned by descendants of the original owners and have been passed down through families over the course of generations. The Scottage, for example, was built by Charles F. Scott from Iola, Kan., in 1899; today members of the extended Scott family divvy up expenses and apportion summer vacation time at this treasured home.
Secondly, many of the homes discussed in "High Country Summers" have only recently been winterized and many remain un-winterized. Their owners open them up in mid-May, enjoy the summer season there, and close them up for the winter in September or October when plunging nighttime temperatures in the high country send city dwellers back home.
Also unexpected was the sheer number of second homes built along the Front Range in the decades surrounding the turn of the 20th century. At first I was concerned that there would be an insufficient number of such homes to support the research.  In fact, the magnitude of the summer home building enterprise turned out to be an embarrassment of riches! My interest was not in identifying the exact number of homes, but I would estimate that there may have been at least 5,000 such dwellings built along the Front Range prior to the 1940s.
Finally, an important finding was the large number of people who traveled great distances – from New York, Virginia, Florida, Chicago, New England, Texas, Kansas, Nebraska – to spend their summers in Colorado, when in truth there were many recreational and summer home communities in the states and regions where they lived. I think it speaks to the great allure of the Mountain West, both then and now.
Even the President of the United States was brought into the act courtesy of Denver businessman, John Brisben Walker. Walker was determined to build a Summer White House in order to entice the country's leader away from the miserably humid Washington heat and to raise the stature of the American West as a region significant beyond the natural resources it provided. Renowned Denver architect Jacques Benedict designed the monumental residence and construction got under way in 1914 but Walker was never able to raise adequate funds to finish the project. It was struck by lightning and burned in 1927; a small plaque marks the site today on Mount Falcon in the Denver foothills.
3. What were some memorable events surrounding research on the state's summer homes?
Probably the most memorable and pleasant aspect of my research was visiting the homes themselves. The interest and generosity of current homeowners, many of whom were descendants of the original owners, was astonishing. They opened their hearts and their homes to me and to my husband as well, whose enthusiasm for the project had him crossing almost as many thresholds as I did. They dug out old photos, boxes of letters, newspaper clippings, family memorabilia, real estate records, and other such mementos from their personal archives.  Historical research is determined in no small part by the sources available to the investigation under way, and I simply could not have undertaken this project without their ongoing assistance.
I delighted in the naming traditions of Colorado's summer homes. Along the Front Range were The Sketch Box (built by a resident artist), Mountainside Lodge (constructed by a theologian who built his home upon a rock), Tyrolerne (the Swiss-chalet inspired lodge of Colorado Governor William Ellery Sweet), Tapiola (the Finnish god of the forest), Graystone, Baehrden (home of the Baehr family), Zephyr View (named not after the west wind but the California bound train that ran through Lincoln Hills), Forest Lynne, Camp Neosho, Rippling Waters, Windy-Woods, the Scottage (home of the Scott family), Terrace Rock, Kum-on-In and many others ranging from the whimsical to the awe-inspiring.
4. What did you find most/least rewarding about your research?
These homes resonate across time and place. Anyone who has spent days, weekends, or even summers in a cabin, cottage, country home or mountain lodge will keenly appreciate the allure of Colorado's early summer homes and quickly connect with all of the special experiences that define summer homes and summer life. The annual migration marked by a habitual departure and joyous return, reunions with friends and family, the delightful retreat from the workaday world, the creative fusion of work and play – all of these occasions signify the second home as both a place and a process, a noun and a verb. The summer home was a dwelling and it was dwelling, in the most elemental sense of the word.
The research I conducted for "High Country Summers" was by necessity selective, in part because of the historical record and in part because of time and space constraints. There were many summer home communities that were excluded, such as those across the Continental Divide at Grand Lake and Granby, and others considerably closer to home, such as the Chautauqua in Boulder. Likewise there were numerous historic summer homes that, disappointingly, simply did not find their way into my research. All are deserving of further study.
5. What are some of your favorite leisure activities?
My husband and I are avid travelers and hikers and have made our way to numerous destinations across the globe -- sometimes on hiking vacations, sometimes not; sometimes urban destinations, sometimes national parks and forests, at other times wine country destinations. We've trekked in Nepal, spent a summer in China, toured and hiked in Alaska and the Mountain West, cruised the Mediterranean, and made our way throughout Europe many, many times – more often than not visiting architectural ruins, monuments, and contemporary buildings. I have many mementos related to our travels in both my office and home – artwork from the Cotswolds, bronzes from China, pottery from Provence, alabaster from Tuscany, and books, books, books (an academic's obsession) from everywhere we could possibly carry them home.