STORY
Five Questions for Mary Dando
Director of Study Abroad Programs, CU-Boulder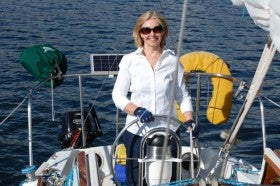 Mary Dando's first foray into international travel came at a young age. Since then, it's been her passion and her avocation.
She first began working in the field of international education in the late 1970s at the University of Kansas. After taking some time out to run a restaurant/bakery for 12 years, she moved to Colorado and joined the study abroad team in the Office of International Education (OIE) at the University of Colorado at Boulder in 1997. She has served as director of Study Abroad Programs at CU-Boulder since 2007.
Study Abroad Programs is one branch of the OIE; the other sections are the International Student and Scholar Services and Global Education Initiatives (GEI). Dando says OIE sometimes describes itself as being in the import and export business – sending students to study around the world and receiving students from around the world on the Boulder campus. CU-Boulder has offered Study Abroad Programs and welcomed international exchange students since the early 1960s. OIE sends more than 1,000 students abroad a year, offering more than 300 different programs to more than 60 countries.
Dando says CU has been an acknowledged leader in the field of international education for the past 40 years. "Thanks to strong faculty and administrative support and an amazing staff, 25 percent of undergraduates who start and go on to graduate from CU have studied abroad."
— Cynthia Pasquale
1. Are there "favorite" or most popular countries that CU students visit?
About half of all students study in Europe, with Spain, Italy, England and France being the most popular destinations. CU-Boulder continues to send large numbers of students on the Semester at Sea voyages.
Other popular destinations include Australia, New Zealand and Germany. Reflecting a nationwide trend, we are also sending more students to Asia, particularly to China and Japan, and to the Middle East. Rounding out the top 10 destinations are South Africa, Costa Rica, the Czech Republic, Denmark and Argentina.
The most exciting trend in recent years has been the increase in the number of faculty-led programs going abroad.
Several years ago, we had six such faculty-led courses taught abroad; in 2011, we will have at least 25 faculty members taking groups of students abroad.
2. Why is it important for students to study abroad and become "global citizens"?
Being able to study abroad while still graduating within four years is an amazing opportunity for students. Students can take courses from faculty around the world to enhance their global perspective and explore a personal interest in another culture. From a professional perspective, students find that studying abroad is a resume enhancer, demonstrating to future employers and graduate schools that the students are willing to take risks, solve problems, adapt to new situations and learn new skills like cultural awareness and leadership.
Our lives are already intricately interwoven with those of others across the world, including the food we eat, the goods on which we rely, and a large percentage of jobs in the U.S. This interdependence will only strengthen in the years to come, giving graduates who have intercultural competence and international experience an important advantage. Over time, this will no longer be an advantage but a requirement for the best jobs both here and abroad.
Furthermore, we are a nation of immigrants – every nation of the world is represented somewhere in this country. Frankly, it is hard to go to another country and learn to adjust and fit in. Experiencing this challenge gives students a tool kit for life as well as greater empathy for others who face similar challenges.
Students I advised in the 1970s are now directors of study abroad at various universities in the U.S. More recently, I worked with a student who wanted to go abroad for the first time but was financially limited. She was able to study abroad for a full year in Norwich, England, because of a CU-Boulder exchange program that makes study abroad more affordable. I believe the year abroad was transformative for her. She went on to join the Peace Corps in Zambia and has now founded a nongovernmental organization to support sustainable agriculture in Zambia.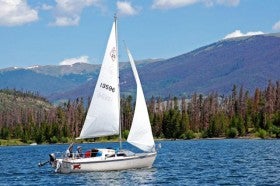 3. How did you choose this career path and are you a world traveler?
I credit my mother with first giving me the opportunity to study abroad. When I was 14 years old, she asked me if I would like to spend a summer living with a family in Mexico. I jumped at the chance and have been hooked on international travel ever since. I spent my senior year in college in Montpellier, France, and then in graduate school I received a Rotary Ambassadorial scholarship to study in Geneva, Switzerland.
I stumbled upon this career path by accident, something that was perhaps easier to do in the 1970s than it would be today. At KU, I ran across an ad in the newspaper for a study abroad adviser position for 10 hours a week. I gambled, quit my full-time job and started advising students. From there the position quickly evolved into a full-time job, and we went from offering a few exchange programs to developing and offering programs all over the world.
My travels since then have either been work-related or short-term vacations with my family. Every time I travel, my husband and I toy with the idea of someday moving to that country. If we had given in to the impulse, we would be living in France, Mexico, Italy, Costa Rica, China and New Zealand all at the same time!
4. Aside from travel, what are your passions?
I have many interests – planning our next trip, dragging my new digital SLR (camera) with me everywhere I go, photography classes, photo editing, reading, cooking, creating cookbooks, hiking, and quilting and fabric art.
During the past several years, I have taken up sailing with my husband. We own a 26-foot Balboa sailboat that we take up to Lake Dillon in the summer, spending weekends on the boat. Last summer, we ventured farther afield and spent a week crewing on a sailboat off the coast of Maine. Eventually we would like to do coastal cruising, perhaps starting in the Chesapeake, and then moving farther south to the British Virgin Islands and the Caribbean.
Circumnavigation is not out of the question, but Mother Nature is always throwing down the gauntlet, and I know that I need many more years of sailing before venturing on a trip around the world.
5. How did you come to own a restaurant and now create cookbooks?
The international education profession is what I love to do the most, but I did take a break in the middle of this career to run a restaurant/bakery. While living in Switzerland, my former husband worked at a French boulangerie/patisserie. His dream was to open a French bakery and café in the U.S. The first business that we started was in Topeka, Kan., and the second was in Omaha, Neb. His skills were on the artistic side, while mine were more in management, so I ended up running the business end of things, including staffing, ordering and the lunch/dinner/catering side of the business.
We had wonderful customers and staff and I don't regret those years because of all of the personal connections that we made and all the people that were thrilled to have authentic French pastries. It was backbreaking work and while I never want to say that I regret anything in my life, I will always offer to talk to anyone who wants to open a restaurant about the reality of making it work, especially in the early years. I was so happy to finally return to the work that I truly love, which is sending students abroad.
I love any food that is off the beaten path of cheeseburgers and fries, all ethnic food and healthy food made with fresh ingredients. I am putting together a collection of cookbooks with themes like "To Your Health," "Favorite Family Recipes," "Meals on Board," "One-Pot Meals," "15-Minute Meals From the Pantry," "Recipes for Kids in College" and "All Vegetarian," among others.
Want to suggest a faculty or staff member for Five Questions? Please e-mail Jay.Dedrick@cu.edu