STORY
Five Questions for Joanne Belknap
Winner of the 2009 Elizabeth D. Gee Memorial Lectureshop Award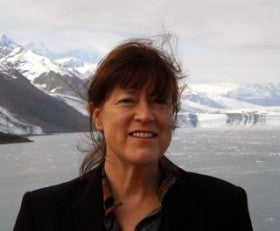 For more than 25 years, Joanne Belknap has been an advocate for women, especially those who have been victimized or find themselves in the midst of an inequitable justice system. One of her studies found girls housed in adult prisons despite their minor records; another found that incarcerated girls and boys have disproportionately high rates of self-reported child abuse and trauma. These and some of her other 50 publications were collaborations with graduate students. And that, Belknap says, is one reason why she loves her job as a professor of sociology at the University of Colorado at Boulder.
"What is most exciting is when (students) notice something I've completely missed in a project we're working on." At that point, she says, the participants start to become "peer collaborators rather than professor and student."
Such dedication to research and her students has earned her the 2009 Elizabeth D. Gee Memorial Lectureship Award, which recognizes efforts to advance women in academia, interdisciplinary scholarly contributions and distinguished teaching. The award is named for Gee, a former faculty member in the Health Sciences Center School of Nursing and the late wife of former CU President Gordon Gee.
On Friday, February 26, Belknap will present her research, including her book "The Invisible Woman: Gender, Crime and Justice" at the 2010 CU Women Succeeding Symposium.
Belknap also has served on numerous national and local committees and boards. She served for U.S. Attorney General Janet Reno in 1995 as a member of the Task Force on Violence Against Women, and provided expert testimony to the Los Angeles Police Department Warren Christopher Commission regarding the Rodney King police brutality case in 1991. She has been a member of the Denver Domestic Violence Task Force since 1998, and advised then-candidate Barak Obama's Criminal Justice Policy Recommendation Committee through November 2008.
— Cynthia Pasquale
1. You are passionate about preventing violence against women. How did you choose this career path?
I sometimes feel like I was destined to do this work from both my own experiences of victimization and those of other women and girls I've met over my lifetime. I pursued graduate work in criminal justice with the idea that I would work on prison reform and that my work on violence against women would be a "side" and volunteer work. I'm still passionate about prison reform. One of my most recent publications, which won the best article of 2008 in the journal Violence Against Women, is about the extraordinarily high rates of sexual abuse histories of incarcerated women. Much of my work on incarcerated girls, boys and women is about how their trauma and abuse histories are related to their subsequent offenses or being labeled offenders.
2. In your book "Invisible Women," you say there is nothing fair or just about the way women are treated in the "criminal processing" system. Do you believe this could change in the near future?
I do think we have seen some changes. Certainly the implementation of battered women's shelters and rape crises centers, more feminist — male and female — lawyers and judges, and so on, have helped immensely. But we still see far too little in the way of protecting women and their children who are being abused by current or former male partners. Convictions in acquaintance rape trials are still rare, and victims' real or made-up sexual histories are too often entered into the proceedings.
At the same time, with the implementation of mandatory arrest policies for domestic violence, women were arrested at unprecedented rates for protecting themselves (fighting back), or simply having an abuser tell the police, "I'm the victim." We fail to take girls' victimizations seriously, but when they offend they can be treated at the deepest end of the system. For example, my work with a former graduate student Emily Gaarder focused on girls who were waived to adult court, convicted and were serving time in an adult women's prison. Our study found that many of these girls were in prison for fairly minor crimes and little to no prior record. At the same time, people knew about terrible victimizations the girls were experiencing, mostly in their own homes, but this was ignored by teachers, police and others.
3. After a series of high-profile rape cases at CU, you criticized the university for not having a better prevention model in place. What changes has the university made to help prevent such violence against women?
Scott Adler, a faculty member in the political science department, was hugely instrumental in changing the oversight of the athletics department so that it was consistent with the rest of the university. That cannot be understated. I'm not sure I trust any of the statistics about the rapes of women on campus. I am completely confident that the change in climate from when Gary Barnett was the football coach, to Dan Hawkins, is significantly for the better. Every semester I have football players among the 100 students who take my undergraduate course "Violence Against Women and Girls," which I designed for CU when I came here in 1998.  Not only do most of these student-athletes have some of the best attendance, they usually sit in the front few rows and are so respectful to the other students — and me. I've had a lot of the women in the classes tell me something to the effect of, "When I saw there were football players in this class, I thought, 'Oh, no!' And then they were so great in here that it gave me a really good feeling about them and the team."
4. What will it take for women to experience equitable treatment in all aspects of their lives?
I certainly don't expect it in my lifetime, if ever, but certainly how we raise kids is important, and this means how we raise our sons as well as our daughters. It's important to raise them with the idea that everyone is equal and deserves respect, although I also think it's important that they learn that not everyone is treated equally even though everyone should be. Our schools and media need to be on board with this, too. Even though a lot of schools are getting better, some are still awful, and don't get me started on the media. The "malestream" (mainstream) sexual objectification of women and girls, and even glorification of violence against women and girls in advertising, television and movies is pervasive, and sends messages that I think we don't even realize we're getting. When women are paid lower wages than men (even with) the same education and experience, which is still common, it keeps women from being equal. Finally, we need to have access to affordable, safe and effective birth control and affordable and safe abortions.
5. Do you find dealing with violence against women an emotionally draining job? Or do you find the possibility of effecting change exhilarating?
Most of the time I find it exhilarating. In terms of teaching, it is so exciting to me that even with a 100-student or larger class, I always have a waiting list. It speaks to how many students want to learn more about this. When I'm working on my research, sometimes it is really depressing. Conducting the interviews with the girls incarcerated in a woman's prison was very draining and enraging. I would feel guilty every day that I left the prison with the girls in there, when I was so relieved to get out after just a day's work. The invisibility of incarcerated children and adults, the invisibility of childhood traumas, the invisibility of women and girls abused by current or former romantic partners, can make me very tired and angry.
The single experience that is most upsetting to me is when my current or former students (or friends) tell me of unjust experiences. Right now I am consumed with the case of Molly Bowers Midyette (convicted in December 2007 of child abuse resulting in the death of her 10-week-old son), working to get her out of prison. To do this kind of work and volunteering, you have to have a good sense of humor and a great support system. I absolutely adore so many of the women and men doing this work, and I have an amazing support system of coworkers, family and friends, including my partner of 18 years, Scott Summers, and our wonderful son, Casey Belknap-Summers.
Want to suggest a faculty or staff member for Five Questions? Please e-mail Jay.Dedrick@cu.edu