STORY
Five questions for Jan Rutherford
Adjunct professor, Bard Center for Entrepreneurship, CU Denver
At the age of 17, Jan Rutherford enlisted in the U.S. Army. He served as a Special Forces (Green Beret) medic and executive officer, and then as a military intelligence officer. Every day he watched leadership in action. As an impressionable youth, he soaked up the lessons, though he didn't realize it at the time. Now the "lifelong student" of leadership is a business professional and an adjunct professor, teaching classes on the subject at the Bard Center for Entrepreneurship at the University of Colorado Denver for MBA students and Doctor of Nursing Practice candidates.
His first book, "The Littlest Green Beret: On Self-Reliant Leadership," details the adversity he faced during his military career and explores what leaders do to inspire and effect change. He also hopes to pass on knowledge that will aid the readers' search for personal growth through self-reliance and learning opportunities.
"I learned to lead by example from military leaders. From some of the business leaders who were my mentors, I learned interpersonal skills, which in a word is listening," Rutherford said. "Really good leaders know how to listen. They listen because they care; because they care, they hear the unheard. When you hear the unheard, you're able to figure out what decisions you need to make and what course of action you need to take, and you can truly lead by example."
Rutherford said he couldn't have written the book without the support of his wife of 27 years, Jacquie, who he said is "saintly" and "the greatest wife on the planet"; and his children: Kevin, who is entering his final year at West Point, and Kristen, who gave him the feedback he'd been waiting for "for a quarter of a century."
"Being a Green Beret was the hardest thing and the best thing I ever did," Rutherford said. "It taught me that if you want something bad enough, you can achieve it. It also taught me early on that, in order to get something worth getting, there's going to be sacrifice, whether it's physical, emotional, mental or all three. What I remember most is there's nothing like camaraderie when you are wet, tired, cold and hungry, when there's adversity. It's like how going on the vacation from hell is more memorable than a good vacation. You just hang tough, know it's going to get better and just take it moment by moment. That's what I learned about adversity."
- Cynthia Pasquale
1. What path did you take from being a Green Beret to teaching at CU?
When I was a kid, I read "My Side of the Mountain" by Jean George. It was about a 13-year-old boy who left New York City and went to live in the Catskills in a hollowed-out tree and had a falcon hunt for him. I wanted to be that kid. I grew up in the Everglades, and every year I asked my parents to let me go live in the woods by myself and they always said no. I've always had this fascination with the mountains and knew I needed to be there.
I spent nine years in the military and when I was done I was 26 and we had a baby. I was recruited back into Special Forces, and although I would have loved to do it, it wasn't the life for a family guy. I joined the pharmaceutical business and was out talking to doctors – which is like briefing generals – about health care and medicine. So I've been on the business side of health care ever since I got out of the military. It's allowed me to dictate where we lived, when we moved and how much I traveled, and I didn't have to get deployed away from my kids. I got to see them grow up.
In 1998, we created the opportunity to have a job based here. The first time we visited here, we felt like we were home.  I have always wanted to teach and didn't see a leadership class at the Bard Center, so I created one. The first time it was marketed, nobody signed up. As part of the doctor of nursing practice program, students had to take a Business 101 class. We all thought that was crazy; they aren't going into business, but would lead change. Now my leadership class is a requirement for the DNP candidates, and at the Bard Center, students going through the entrepreneurship program can elect to take my class.
I created another class, Leadership and Entrepreneurship in Ireland, and took 15 MBA students to Ireland for two weeks. We met business and academic and government leaders there then came back and presented to a number of community leaders here in June. It was a big success. What we were hoping to do is build a bridge, especially since Colorado and Ireland are very similar.
We heard somebody in Ireland use the term "pracademic." I thought it was great because that's what an adjunct faculty brings – the practical side of business. I'm a practitioner, I'm in a leadership role, I'm in business, and I've been there, done that. The courses I created are centered on students forming teams and going out into community to study a leader and learn their leadership philosophy, talk to their followers and find out if they walk the talk. That helps internalize what leadership is. It gives them the confidence to call people on the phone and understand that people are willing to help, that they don't have to necessarily get another degree but can create their own learning environment.
That's a lot of what my book is about. When I say self-reliant leadership, I don't mean you're a leader all by yourself, I mean your development as a leader is up to you. Self-reliant leadership really means knowing which questions to ask yourself and having the courage to answer them and act and change behavior and make adjustments so you can be more effective.
2. What are the top characteristics (or core characteristics) of a leader as you see them? Not everyone has the fortitude to be in Special Forces. Can the same be said about being in a leadership role?
The No. 1 thing I think leaders have in common is a passion about something besides themselves. They know they need to develop other people to accomplish something bigger than any one person. The definition of leadership that I like says that a leader can articulate a vision in such a way that gains a true commitment from others. That says a whole bunch of things: they have vision, they have passion, they know how to communicate, and they gain commitment, which means followers are committed vs. compliant.
That's the big misnomer of the military. Everybody thinks people in the military just do what they are told. The really great leaders in the military and in business are people who get people to follow them and who buy into what they are doing and why they are doing it.
I'd say 99 percent of people want to make a difference in the lives of others. But some people never figure out how to do that or get in a rut and think they can't do it. You can put a dozen people in extraordinary circumstances and someone will emerge as a leader.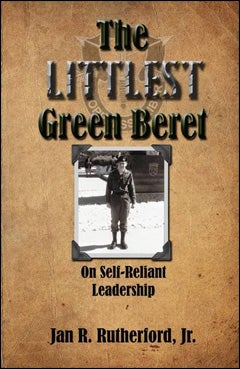 3. What inspired you to write the book "The Littlest Green Beret" now and not 10 or 15 years ago, and why are you donating half the proceeds to the Green Beret Foundation and the Special Operations Warrior Foundation?
I had the idea forever, but in hindsight, I realize I couldn't have written it because I had all these experiences in business and in teaching. When I first taught, somebody said to me, "Now you have to face your own hypocrisy," and it's true. I didn't write the book thinking I had figured it out and knew everything, and I was a great leader. Instead it's about me being a student of leadership and what I've learned and who I've learned it from. What really made me get it done was a conversation with my son after he had a year at West Point and knew a little bit about the military. We were on a bike ride, and he said to me, "You did crappy in high school, you partied, you were little (5 foot, 4 inches),  you had all these things going against you. You barely weighed enough to jump out of an airplane. From a reasonable, rational mind, you shouldn't have made it through. How did you do it?" He knew the answer, that I'm very competitive and didn't quit. That conversation led me to think that I needed to get the story out, and I wanted to dedicate it to my son's graduating class – the class of 2012.
I'm no hero. There are a lot of people who sacrificed before and after me, and I was lucky enough to have served during peace time. I was around great leaders at a very young and impressionable age, and I couldn't use Green Beret in the title without giving back; it wouldn't be right to use that name for my own benefit.
4. Now that you're living in the mountains, how do you enjoy them? 
I've climbed 18 14ers. I mountain bike, road ride and backpack. I love being in the woods. I get recharged there and that's where my son and I bonded. It's also where we've had vacations from hell as a family. I need to be on a trail once a week. If I start the day out seeing deer or a rare bird, I know it's going to be a good day. I just got back from the East Coast where people are packed in like sardines and the only nature is in parks. Here, I'm always looking for new places. Climbing 14ers isn't really about checking them off – it's a way to make sure you're exploring new places.
5. Do you have a motto that you live by?
I have a quote that I love. "He who knows how to suffer everything can dare everything," from Luc de Clapiers Vauvenargues. Adversity is like an anvil that makes you stronger. I don't think you have to make yourself miserable and suffer, but when you know that you can suffer through things and you're not going to quit, you can dare things, you can take a risk, you can do more. That's one of the reasons I love hiking so much. When you climb a mountain, you feel like you just pushed yourself, that you've accomplished something. The view didn't come free, I toiled.