STORY
Five questions for Erin Foster
Communications specialist, Bursar's Office, CU-Boulder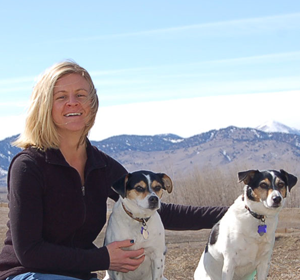 The longer Erin Foster spends at the University of Colorado, the stronger the connection becomes. After earning a bachelor's of science degree in accounting at the Leeds School of Business, she decided to pursue a position as a staff member.
"I fell in love with the University of Colorado and my husband (Brian, an Army Ranger) was getting ready to deploy again, so I wanted to have a place where I felt comfortable and happy and I wanted to further my education and pursue a master's," she says.
In 2008, she began working in the Bursar's Office in the student billing department, then moved to the communications department two years ago. Her primary focus is communicating with students about their financial information and the financial education program.
The university's tuition benefit program offered Foster a chance to earn an advanced degree without borrowing money and going into debt. And working at CU helped her stay busy while her husband spent another year in northern Iraq.
Her work also led to her current research: studying the long-term impact of Colorado high school financial education programs on CU retention and graduation rates.
Her husband was away for the first half of their marriage. When he finished with active duty in 2010, Erin said she felt relief. "Then he promptly joined the active reserves. I was thankful that he had joined the reserves in Colorado and was stationed in Hawaii."
In October 2011, Brian ended his service with the active reserves. "It's been a transition," she says. "I got so used to my autonomy and I could study until 1 a.m. Now he says, 'Are you going to study more?' It will be nice when I wrap this up and graduate in May."
1. Why did you choose to pursue your master's degree in public administration?
I started my master's program about six months after I began work as a staff member and had a choice between an MBA and an MPA. Since I had already done the coursework for my B.S. in accounting, I felt like I had a good grasp on finances and financial information and business management and wanted to learn more about management in the public sector. I decided that since I was working for a public institution and enjoying it, the MPA would be the best choice for me. I'm also interested in public policy.
2. How has the tuition benefit program helped you?
I could use the benefit on any campus and Boulder doesn't offer a degree in public administration, so I took classes through the University of Colorado Colorado Springs campus. I live in Longmont, and the cool part about tuition assistance is that many programs allow staff members to take classes online. About 80 percent of my coursework has been completed online, which really is helpful with a 40-hour-a-week work schedule. I also took a  few classes that the School of Public Affairs offers that are hybrid weekend classes, so you attend from 5 to 10 at night on Friday and then on Saturday. Those meet three to five times a semester.
I took one class in the spring of 2009: I dipped my toe in the pool to see if I liked it. I did go slower through the program than I wanted to because with the tuition benefit, you can only use nine credit hours per year, plus there were the normal constraints of working full-time and trying to go to school full-time. I also was able to get a few scholarships to pay for additional classes. But the fact that employees can take classes for fun is one of our best benefits.
3.  You were nominated last September to be a participant in the University Perspective Program. What have you learned so far?
I participate in the eight-month program with about two dozen other people. We've had opportunities to meet with campus leadership – chancellors and vice chancellors – and leadership from the Boulder community, in this case the Boulder city manager. In addition, we met with system administration two weeks ago, which was fascinating, and we've been able to tour the other campuses. It's a great way to see what CU Denver and UCCS has to offer. My mom actually was born at Fitzsimons. We used to drive by there and it was very army barracks-looking. Cut to 20 years later and it's now a cutting-edge medical research hospital. The program gives you a great perspective of the university as a whole.
4. Are you involved in other university community activities?
I learned about CU Advocates when I visited the president's office and was intrigued by the program. Obviously, I really like CU and I thought by joining the advocates I could learn better ways to effectively promote CU. For instance, if someone asks me about why our tuition rates are set the way they are, I'll be able to have a more articulate way to engage in that conversation.
I've been on Boulder Staff Council for a year and am on the communications committee. I'm only able to serve on one committee because I'm involved in so many other things. I enjoy being part of the CU community.
5.  How did you develop the theory for your graduate research that there is a possible link between financial education and college graduation rates and what do you hope to achieve with this research?
As part of the financial education program that we have at CU, I was doing research about how to reach students and give them useful information. I ran across an article written by a registrar at Seattle University that talked about how more students drop out of college because of financial problems than academic problems. That really surprised me. That was a year ago and it no longer surprises me. Saving rates are low; parents are losing their jobs or borrowing against their retirement to put their children through school. Obviously tuition rates are going up, and student loan policies are becoming more restrictive and there's less funding available, so finances will play a huge role in college retention rates. I wanted to look at CU's data on retention rate or separation rate, but there really wasn't anything. I went to the people at College Invest and asked about the data they have on CU, about those who come to CU and leave or those that take longer than six years to complete a degree.
I'm in the middle of going through the data and looking at the link between retention rates and students who have participated in some type of financial education program, whether it be exposure to financial literacy in high school or a finance class in college, and comparing those numbers to the general population.
At CU, and this comes from my boss, we would love to see a required course built into the curriculum on personal finance. If you think about it, if we were able to keep 10 more out-of-state students for an extra year, that's an extra $140,000 in tuition revenues. Those are big numbers. And it's a life skill and we're not doing anyone a disservice by teaching them about finances.