STORY
Five questions for Elise Graninger
Retiring staff member reflects on life at CU-Boulder – from being a student to helping students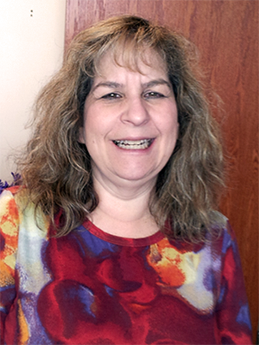 On Friday, Elise Graninger will wake up a different woman: She won't have to worry about CU-Boulder students who don't get along with their roommates or anxiety-ridden parents trying to help their children navigate the realities of living away from home.
This is not to say that Graninger – manager of occupancy management, Housing and Dining Services – doesn't love her job. She does, and she will miss the university, her staff and, especially, the students. But after 21 years at CU, Graninger is retiring, and is excited to no longer "work at 100 miles per hour."
Graninger attended CU-Boulder, beginning in 1977. She graduated with a degree in political science and was involved in residence hall student government. She began working as a hall director in 1981 and earned her master's in education and college student personnel. Later, as her children were growing up, she took an eight-year hiatus from the university, working instead at a Louisville elementary school with gifted and talented children who were "all smarter than me." When her children entered college, an opportunity arose to return to the university to help coordinate housing assignments.
"I've been so blessed and so fortunate for this opportunity and I've learned so much. CU certainly has given me a lot more than I've given it," she says. "But I'm excited to take the next step."
She'll still bleed black and gold, especially when it comes to "her" men's basketball team, and she would love to "help out CU if there's a way to give back." But tomorrow, the first day of her retirement, she'll be ready and waiting for what else might be on the horizon.
1. One part of your duties is to help coordinate dormitory room assignments. How does that work?
We have about 6,500 spaces in residence halls and most are for freshmen since we require our freshmen to live on campus. I mostly work with parents and students to make sure they get the best assignment possible depending on when they applied and what is available and what they desire. I work a lot with special requests, for instance, medical or special needs. As a parent of college kids, I can relate to both parents and students. I really listen to their concerns and try to educate them. It may be the tenth time we've heard it today, but for that parent or student, it's their first time, so it's important to help them navigate the process and the system. CU may be a big place, but we really care about our students and our families. It's one of the things I really enjoy about working at CU: There are so many caring, dedicated people here.
Once students are admitted to CU, they apply for housing and can pick up to six preferences for where they want to live. Basically, it's first-come, first-served. So we look at their application date and what they are eligible for. Farrand Hall is for arts and sciences students only. Andrews is for engineering and honors students only.
Some of them have a roommate request. We also ask them a few lifestyle questions. Are you messy or neat? Do you study at the last minute or every day? Are you a smoker? We've found that's the most critical question. Even though you can't smoke in the rooms and, now, you can't smoke on campus, people who smoke smell like they smoke. We use an auto-assign process, but sometimes we make manual assignments. It's a challenge, like putting a puzzle together, that's ongoing.
Farrand Hall is the one everyone wants to get into. I personally believe it's all about urban myth. Don't get me wrong. Farrand has a fantastic RAP (Residential Academic Program) and it has a long legacy. It started in 1980 and is our oldest RAP. The location is beautiful, but if we renamed the field next to it "Libby Field," then I think Libby would be the most popular. What makes the halls and living there great are all the people you meet and the lifelong friendships you make.
2. How has housing and the university changed since you've been there? 
The biggest change is the expectation of instant communication. When I went to school, you called your parents before 5 p.m. on Sunday because that's when the rates went down. Now students are constantly texting and e-mailing their parents whenever they think of something, or if they're upset because they had a bad day at school, or they're having roommate issues. I get emails from parents and students on nights and weekends. I'll answer right away because a response de-escalates things and they won't stew about the problem. But that expectation puts a lot of demand on staff and the university to respond quickly.
3. What are some of your favorite memories of the university?
I think it's seeing the staff I work with and students succeed and knowing that I had a little bit to do with that. I've been in this position for five years, so I see students come in as freshman, convinced they couldn't live in a certain hall, and now they're active in the university or community. Lots of students who really struggled in the summer or fall come back to visit. They are doing well and they love CU. We've helped make their transition successful.
I'll miss the students and the residence life staff. And just the energy of working at CU; it's a wonderful community, a community of people who really care. And I love the students. I've been blessed and honored to work with them.
4. As you pack up to leave, what are some of the things that you'll always treasure?
I have some notes that kids have left me. Some say "thank you" or "Stopped by to say 'hi.'" They remind me of why I do this job. Sometimes on those more difficult days, the really nice notes help. I have a lei from Hawaii that a family sent me this year for helping their son. All we did was our job. We were able to move him to a hall that he wanted. He was next in line and it was the right thing to do. We didn't go above and beyond, but they were so appreciative. It's great to know we make a difference.
5. What are your plans for retirement?
I'm excited to take the next step and not work so many days and so many hours. I'll do volunteer work at the elementary school in Louisville, and I hope to visit my son and daughter and my parents more often. My husband and I will look at traveling a little bit more. I like to read and I want to spend more time with girlfriends. I love shopping, although now I'll have time and no money. I do want to stay busy and find ways to volunteer, but I'm not sure what this new chapter holds.