STORY
Five questions for Daniel Gette
Director, Conference Services, CU-Boulder
Each year, the University of Colorado Boulder hosts about 150 scientific, government, state and youth conferences, and Daniel Gette knows the details of each one. The director of Conference Services, he oversees the gatherings, from the pre-planning – including online registration – to post-conference reconciliation. He also serves as a liaison for a variety of university departments, housing department units and the Boulder community. He's the university representative on the Boulder Convention and Visitors Bureau Advisory Board and manages short-term faculty/staff apartment rentals for Bear Creek Apartments.
He believes in volunteerism and helping out whenever and wherever someone needs it, says a colleague.
— Cynthia Pasquale
1. How did you come to be at CU-Boulder?
I've been at CU since January 2000, when I was hired as the assistant director of CU Conference Services. I became the director in August 2009. Earlier in my career, I was a resident assistant, a hall director and assistant director of resident life. My next position was the assistant director of the Student Union at the University of Northern Colorado, where I was responsible for the scheduling and event planning office.
The job at CU was an opportunity in my area of interest and was a perfect fit for me.
2. CU hosts about 150 conferences a year. Were there any that stand out?
Odyssey of the Mind was probably the biggest and most complicated. It also was the most fun because it united us with other departments on campus. The conference was the last week in May and Colorado's expected weather changes brought us snow. It was very exciting for the international students who had never seen snow before. They were out there with black plastic bags, filling them to take home.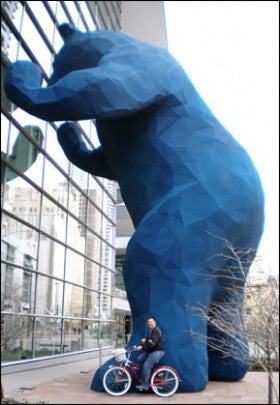 3. What is your favorite part of the job, and what is the biggest challenge?
Since we are a one-stop shop, duties include everything from meeting planning on and off campus, to overseeing online registration to arranging on-campus room and board. My favorite part would be the opportunity to network and build relationships. Then there's working out all the details with the other departments on and off campus for the space needed for the different conference needs. It's challenging to be creative under limited budgets.
4. A co-worker referred to you as "Mr. Customer Service." Why have you been given that title?
In the conference service business, our goal is to create a great experience for all our guests. This can only be achieved with outstanding customer service.
5. Away from the university, what are you favorite leisure activities?
I enjoy bike riding, exercising, travel and cooking. I make annual trips to Cape Cod and Puerta Vallarta, Mexico. I also like cooking all types of food, but especially Italian. Some of my favorites are Mafia cheese bread, rum cake and creamy garlic pasta.