STORY
Five Questions for Connie Graham
Vice President of Development, CU Foundation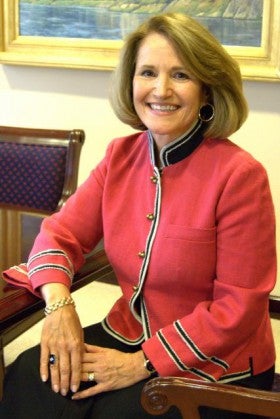 Fundraising always has played an important role at the University of Colorado, but as state funding for higher education declines, donor gifts become even more vital. Connie Graham, a vice president of development at the CU Foundation, has been raising money for CU for 20 years, and has worked closely with the past three university presidents.
While her duties are numerous, her role can be encapsulated into one idea: building good relationships. She serves as a liaison between the foundation and the office of CU President Bruce D. Benson, and collaborates with colleagues to identify funding opportunities. She also works with the president to plan and implement funding strategies.
She arranges numerous large outreach events for alumni in other states to meet with Benson, and meets one-on-one with prospective donors. She helps manage seating at the President's Suite at Folsom Field, and invites guests to monthly dinners at the home of Benson and his wife, Marcy. She also coordinates CU's requests to many of Colorado's largest foundations.
Previously, Graham served as vice president of major gifts and vice president of development for the Denver campus.
— Cynthia Pasquale
1. You have been with the CU Foundation for many years. How has fundraising changed over that time?
The foundation was established in 1967 with the mission of raising, managing and investing private support for CU. When I started in 1989, fundraising was $24 million a year and the endowment was $49 million. Today, the CU Foundation has more than tripled – in fact, it exceeded $100 million annually from 2006 to 2008. Our assets under management have increased even more dramatically, to approximately $1 billion.
During those years, I've seen a lot of growth and increased professionalism in fundraising. Our partnership with the university has grown closer as well.
The beauty of being connected with a place like CU is that donors are so supportive. We graduate thousands of people each year and we hope they become prosperous and remember their alma mater. Every gift and every amount improves CU's ability to serve its students, and the communities and industries served by the university.
2. Is there one surefire method you use to secure donations?
Development is a long-term process. First we identify a donor and build a relationship. We try to match a donor's passion to university priorities, and then we try to steward those gifts, all the while staying in touch with the donor.
The best results come from listening. We ask them, "What would you like to accomplish with your money that would be meaningful to you?" Listening is the key, rather than selling something. People give to people for causes they care about.
I've been here for eight presidents and have been fortunate to have staffed the last three (Betsy Hoffman, Hank Brown and Benson). While they each brought different strengths to the position, they all recognized and understood the importance of their role in external relations and development and worked tirelessly for CU. Brown and Benson are both CU alumni who are well-connected and well-respected.
Bruce Benson is an extraordinary philanthropist and I'm happy CU is at the top of his list. His wife, Marcy, also plays an integral role, and is herself an accomplished fundraiser and community leader. They are definitely a team. I have her on my speed dial and talk with her almost daily.
3. How has the economy affected fundraising and what does it mean to the university?
Clearly it has had an impact in so many ways. The broad equities market is the strongest predictor of individual giving. When the Dow sank to 6,500, everybody saw their portfolio shrink. The second-biggest predictor is personal income, and we know that has declined, too.
We've seen the largest decrease in the "megagifts" category: gifts over $1 million. Fundraising results are down this fiscal year, although we've seen the pace pick up substantially these last few months, and should cross $80 million this year. Gifts and grants from foundations also are down, as their endowments have been impacted by the recession. But we're encouraged to see a bit of a recovery. It's certainly not 14,000, but then it's not 6,500 either.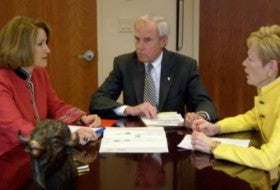 4. You were editor of "Créme de Colorado," the Junior League of Denver's second cookbook. What was it like to work on that project and what other community organizations are you involved with?
That was so much fun. It was two years in the making. I oversaw the gathering of recipes and the marketing and production of the book. Since the first printing in 1987, it has sold 565,000 copies and netted almost $4 million for the Junior League of Denver. Lots of women tested recipes chapter by chapter. Businesses helped, too. Coors Brewery underwrote the press kits.
Currently, I'm on the board of the Denver Zoological Foundation. It's an organization I've cared about for a long time. With my development background, I can help, plus I get to hear firsthand about their conservation efforts and myriad projects.
5. What is something about yourself that most people don't know?
I was a can-can dancer at the Long Branch Saloon in Dodge City, Kan. It was a summer job during high school, sort of like working at Disney World. I earned $5 a night, but people would throw money on the stage after the performance and the can-can girls would fight for it. It was a fun summer before heading off to college.
Want to suggest a faculty or staff member for Five Questions? Please e-mail Jay.Dedrick@cu.edu