STORY
Five questions for April Lanotte
UCCS educator helping students reach for stars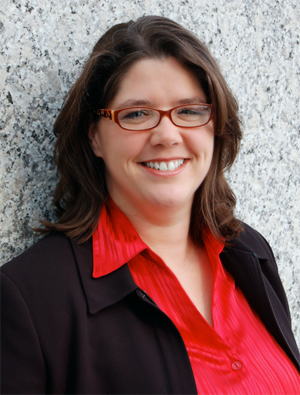 April Lanotte has loved science since she was young, spending time gazing up at the sky with her amateur astronomer father, and her interest hasn't waned. She currently is senior instructor/master teacher with the University of Colorado Colorado Springs UCCSTeach Program. Previously, she taught middle and high school students, was appointed to an education fellowship with NASA, and is now writing curriculum that inspires students to get involved in science and math.
Teaching was something she "tried out" in college. "I fell in love with it and didn't want to do anything else after I gave it a try," she says. "One of the things I really love is working with other people and getting them as excited as I am about what I'm doing."
With degrees in English and science, she has taught in a variety of settings, from middle school in California and Colorado Springs, to high school in rural Simla, Colorado, to college students at CSU.
While she has earned a variety of awards and accolades, perhaps the one that means the most is her recent induction into the Distinguished Alumni Circle at La Roche College in Pittsburgh, where she earned a bachelor's degree in English literature. The college had a lot to do with her educational path, which includes a master's in English literature with a focus on nonfiction science writing from Colorado State University and a master's in science education from UCCS.
She and her family live in Calhan, in El Paso County, where they enjoy their own 40 acres and the rest of the wide open spaces.
1. What is the UCCS Teach Program and what are some of your goals through that program?
The program works with math and science majors who, at the same time, are earning their secondary teaching certificates, which will allow them to teach middle- and high-school students. I work with the teachers to show them how to more efficiently teach content. For instance, college chemistry students will go into lab, start an experiment that has to run for 30 minutes, then go on to the next step. But if you tried to teach high school students something like that and let them loose for 30 minutes, it would be chaos, so we help teachers understand how to structure the lessons so students can still do a variety of different things.
I'm involved with a lot of curriculum work where I'm looking at how students will be impacted and that will help future teachers. After my fellowship with NASA, I changed my focus. When you are teaching in a small town, you look at the head of a pin from a teacher's point of view, but when you see what is happening at the federal level, it really changes your perspective. In classrooms, teachers don't care what is going on in Washington, D.C., and in D.C., they don't have any idea what people are doing in the classroom. So I'm trying to find a way to get the two to see each other's point of view.
2. In Washington, D.C., you were an Einstein Educational Fellow at NASA's Aeronautics Research Mission Directorate. What did you do there and what was the most enjoyable aspect of the two years you spent there?
I was one of 20 math and science teachers who went to D.C. to help shape federal science programs. Basically, our job was to be there to put a realistic spin on what they do. I worked with NASA, where they have all these great ideas, but because they aren't teachers, they don't know how to translate those ideas to fit a curriculum. NASA Aeronautics was designing airplanes that you might be seeing 20 or even 30 years from now. I helped write curriculum and did a lot of outreach activities to explain what NASA does so that people actually understand it. I still work with them on a part-time basis.
I like writing curriculum – that's partially because of my writing background – but at the same time, I love interacting with people. And NASA was always a huge thing for me because I was always interested in space science. I did research when I was a master's candidate at CSU on the space shuttle and have always been interested in the shuttles. The most exciting thing I was able to do while on my fellowship assignment was travel around with other NASA people and help as the space shuttles were being retired around the country to their final homes. It all pretty much came full circle for me.
3. You also write curriculum for the Challenger Center for Space Science Education. What types of things do the centers do?
There are Challenger Centers all over the country. They opened after the Challenger disaster when the families -- rather than building a memorial – developed these hands-on centers where students can go to run simulated space missions. There's one here in Colorado Springs. One of things I started doing is helping write curriculum and adapting existing curriculum. The students take on the role of a mission control person or a space station specialist and they run experiments together. It's pretty neat hands-on science aimed at middle-school students. They also have missions for adults and other ages, too.
4. What are two things on your bucket list?
One is to go to Antarctica. I would love to do that; it would be an adventure to the extreme, visiting a place like nowhere else here on Earth.
And if they ever start sending people to Mars, I would go. I could say I grew up in Mars, Pennsylvania, and I went to Mars.
I have always been interested in space. I think it started because my dad was an amateur astronomer. I was always outside looking at the stars with him; he instilled that curiosity in me. It was the heyday of the space shuttle when I was growing up and I've always been a fan of "Star Trek" and "Star Wars," which really fascinated me and allowed me to let my imagination take over.
I went away from it for a while. I wasn't always the best math student and I let myself be convinced that that meant that I wasn't supposed to do science. I was always a good writer, so I decided to focus on that. But when I started teaching English using science in some of the things I asked my students to write about, it dawned on me that I didn't want to be writing about science as much as I wanted to be doing science. When I moved to Colorado Springs, I started taking classes at the Space Foundation. That cemented by suspicions and I knew this is what I wanted to be doing and that's when I started working on my master's in space science education.
5. Tell me about a favorite item or artifact in your office and the story behind it.
It's actually at home, but it's called a Lichtenberg or "captured lightning" sculpture. It's a piece of acrylic that's been sent through a particle accelerator. It makes a brilliant sculpture that looks like lightning and is basically fossilized lightning. I love that sculpture, which shows potential and energy, and embodies so many different things at once. An engineer at MIT makes the sculptures and I heard about it when I was at MIT for a lecture and I knew I wanted one.