STORY
Faculty Council recognizes colleagues
The University of Colorado Faculty Council recognized the contributions of four colleagues with its 2008-2009 awards during the governing board's May 14 meeting.
University of Colorado Denver professors Nancy Ciccone and Weldon Lodwick received the council's Distinguished Service Award, and Kathleen Bollard, associate vice president for academic affairs, received the council's Administrator of the Year Award.
Council Chair John McDowell read from plaques awarded to the honorees, extolling the contributions of each one before handing them the plaques and companion etched, glass-and-metal statues.
Bollard, formerly an associate professor of Spanish on the UC Denver campus, was honored for her work as a liaison between system administration and faculty on all three CU campuses. McDowell called her "an effective, innovative leader who listens carefully and tries to reach a consensus" among colleagues. While at UC Denver, Bollard chaired the department of modern languages and was associate dean of the College of Liberal Arts and Sciences.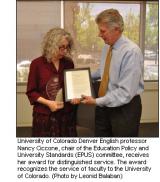 "Faculty are the heart and the brain of the university. I'm so proud and honored to receive this award from you all," Bollard said.
Ciccone, an associate professor of English who chairs her department at UC Denver, said, "I want to thank everyone, all the members of the committee who serve with me, for all the support I've gotten. I'm especially honored to share this award with Weldon."
A UC Denver math professor, Lodwick thanked the council for the recognition, too.
"We are just the visible part of colleagues that really give meaning to what we are doing and the work we are doing," he said.
McDowell also praised R L Widmann, the recent past chair of the council, for her "outstanding service to the University of Colorado."
Widmann, a CU-Boulder English professor who has infused generations of students with her love for the work of William Shakespeare, thanked the council, several colleagues who teach across the CU system, and Regents Tom Lucero and Steve Bosley.
Though her political views diverge widely from those held by Lucero and Bosley, "We still worked well together," she said. "It was my great privilege to work with all of you."