STORY
Faculty Council delving into diversity, inclusion with Brenda Allen
Professor emerita kicks off discussion of 'highly complex concept'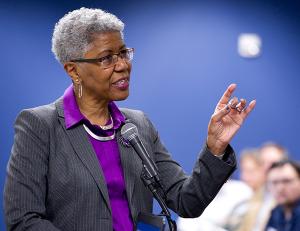 In an effort to boost knowledge and gain expertise in best practices as related to diversity and inclusion, Faculty Council has partnered with Professor Emerita Brenda J. Allen.
Allen, professor of communication and former vice chancellor for diversity and inclusion at CU Denver, spoke at the Dec. 5 Faculty Council meeting at 1800 Grant St., where she began sharing plans for the remainder of the academic year.
Allen said she intends to attend council meetings regularly beginning in February, and will facilitate a half-day workshop at the council's retreat in March.
"Inclusion is a highly complex concept," said Allen, who has been at work creating a Massive Open Online Course on inclusive leadership. "Our definition of inclusion is that everyone feels respected and valued. Inclusion refers to both a process and a feeling, where everyone can say, 'I feel included, respected and valued.'"
Allen was one of several guests at last week's wide-ranging meeting, which also included a discussion of divestment, which Faculty Council Chair Joanne Addison said was prompted by the University of California System's recent partial divestment of fossil fuels.
CU Treasurer Dan Wilson said he and others in management are working on advancing the topic, but noted the complexity of university assets requires more direction from the council. He described four main pools of assets, including CU's endowment, which is overseen by the CU Foundation Board and not by the CU Board of Regents. The treasury pool is the university's operational assets, while the university's non-PERA retirement assets currently provide investors with the ability to choose where their funds are invested. Non-pool money completes the set of assets.
"We are working with our investment advisers in legal to see what is possible," Wilson said. "But when it comes to divestment, which pot of money do you want to talk about? That's the question for this group."
Addison said the council will seek further clarification of the goals of the campus-based Faculty Assemblies and have the council's Budget Committee report back to the group.
In other business at last week's Faculty Council meeting:
President Mark Kennedy and Todd Saliman, system vice president for finance and chief financial officer, presented an update on the strategic planning process. Saliman, co-chair of the strategic planning committee, said a summary report derived from the reports of the working groups, will be posted to the strategic planning website this week. The working groups must next deliver metrics on how to measure progress in their areas of work, followed by action steps for implementation. Feedback on those should be shared by Dec. 31, Saliman said. Kennedy continues to emphasize that the strategic plan is a system plan and not campus-specific.

Patrick O'Rourke, vice president, general counsel and secretary to the Board of Regents, introduced three team members from EY-Parthenon, recently awarded a contract to provide advice and guidance to the university in its efforts to advance online education across the CU system. Addison said the council will provide names of individuals and groups that it recommends EY-Parthenon engage with during its internal assessment, which continues through March.

Ilana Spiegel, candidate for the Board of Regents in the 6th District, introduced herself to the council and took questions. The Englewood Democrat is running for the seat held by John Carson, R-Highlands Ranch, who is not seeking reelection. Addison said the council aims to invite all candidates for regent to appear at a council meeting, noting the group prohibits fundraising at meetings. The council does not endorse candidates for regent.