STORY
Faculty Council chooses new leadership team for coming year
President Benson recognizes service contributions at governance group's meeting
Faculty Council last week elected new leadership for the next academic year and honored one of its members with the annual Distinguished Service Award.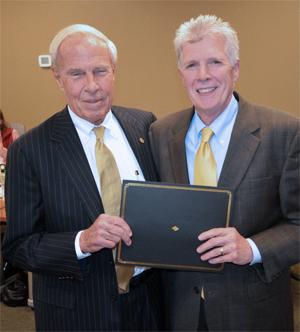 John McDowell returns to the role of chair, having also served 2008-10; he'll succeed Laura Borgelt. He was the sole nominee during the April 23 meeting at 1800 Grant St., and was named chair by acclamation.
"I look forward to this next year being helpful to this group," McDowell said.
The council also held votes for vice chair and secretary. Ravinder Singh will be vice chair; Peggy Jobe will continue as secretary.
Jobe also was honored with the council's annual Distinguished Service Award; see this week's Five Questions feature to learn more. The council's awards for Administrator of the Year and Leadership in Public Higher Education will be announced at later dates.
In other business at last week's meeting:
The council heard an update from Tom Napierkowski of the Privilege and Tenure Committee, whose mission is to provide faculty members a hearing for grievances involving perceived violations of rights or privileges. In the committee's most recent high-profile case, Napierkowski said a recommendation has been advanced to the president; the committee has yet to receive a response. Napierkowski said his impression is that not many faculty members know about the committee and its services; council members said they will work to promote greater awareness. The council also aims to allow the inclusion of non-tenure track faculty on the committee, which isn't allowed under current bylaws.
The council gave its approval to Regent Policy 4J, concerning the procedures for approving new degree programs. Council Vice Chair Joanne Addison said that the need for a streamlined process in approving online degrees is understood, faculty must retain involvement in that process.
President Bruce Benson presented the Distinguished Service Award to Peggy Jobe and certificates of appreciation to all members of the council during the Faculty Senate meeting, where he also spoke and took questions. He said looming TABOR refunds in the coming years threaten already limited state funding for CU and higher education. During discussion, Melinda Piket-May stressed faculty's desire to see an improved tuition benefit across the system.
The council's next meeting runs noon-3 p.m. May 7 at 1800 Grant St.; Regent Linda Shoemaker tentatively is scheduled to appear.