STORY
Experiential Learning Center immerses students in hands-on learning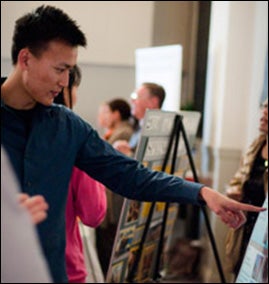 The University of Colorado Denver's Experiential Learning Center (ELC) works closely with students, faculty, employers and community partners to provide quality experiential learning opportunities for students that enhance academic learning, integrate theory and practice, and promote professional development and active citizenship. Experiential learning includes a variety of activities with one common goal: to immerse students in hands-on learning outside the classroom where experience is at the heart of the learning process.
With that goal in mind, on April 29, the Experiential Learning Celebration and Showcase was co-sponsored by the Experiential Learning Center and CU Denver Office of Student Life.
At the event, 23 employers showcased their internship programs while more than 80 students from a number of different majors exhibited their successes from internships and volunteer experiences. Academic departments also showcased experiential opportunities for students.
ELC Internship Advisor and event coordinator Lesley Bishop noted the Experiential Learning Celebration and Showcase gave students an opportunity to share the myriad benefits derived from their experiential learning successes.
"It was a great opportunity for students, faculty, employers and community partners to celebrate and conclude their endeavors in experiential learning," Bishop said.
Besides exhibits, motivational keynote presentations included the 2009-2010 Outstanding Intern of the Year, Virginia Till, and respected faculty Peter Miller, a marketing professor.
Said ELC Director Tony Smith, "This inaugural event was a huge success and we look forward to fostering its growth in the coming years."