STORY
Executive MBA in Health Administration a unique program in the state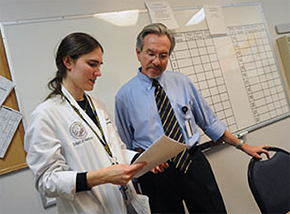 Jobs that are projected to rise at the healthiest clip in the next decade are those focused on keeping the population, which is rapidly aging, healthy.
At the top of the health care employment pyramid are the leaders—managers tasked with improving health care outcomes, dealing with insurance changes under the Affordable Care Act, and adjusting to sweeping changes in clinical care and the health care marketplace.
Producing dynamic, business-savvy health care leaders for this vibrant and expansive field is the mission of CU Denver's Executive MBA in Health Administration program. It is the only program in Colorado that offers an MBA that's tailored specifically for health care.
This unique program will celebrate its 30th anniversary in July 2015. The program typically has 30 to 35 students per annual cohort, said Roger Japp, MBA, director of the recruitment and operations of the Executive MBA in Health Administration.
"Our students are generally professional leaders in health care," Japp said. "They are looking to increase their marketability or position in their current organization."
The two-year, hybrid program conducts 90 percent of its coursework online, with two weeks each year of on-campus study. "It's really designed for people who are working full time," Japp said. "Our online coursework is asynchronous, so it's done on the students' own time, at their leisure."
According to Forbes magazine, the Bureau of Labor Statistics projects the health care sector to produce 28 percent of the new jobs in the United States through 2020, or about 5.7 million more jobs.
The CU Denver Executive MBA in Health Administration program attracts students from across the country. About a third of each cohort is Colorado-based, while the remaining students come from other states. "This diversity allows our students to enjoy a really good networking component to the program, which is essential in business," Japp said.
He said many similar programs are campus-based and require much more travel for students. Japp said that because it's an Executive MBA program, using faculty from 17 accredited health administration programs at universities around the nation, tuition is a slightly higher than a traditional MBA program. However, CU Denver's program tuition is competitive with, or lower than, similar health administration programs nationwide.
Japp pointed out that the vibrant spectrum of health care taking place on the Anschutz Medical Campus—from education to clinical care to research—makes the campus's professionals strong candidates for the Executive MBA in Health Administration program. In addition to covering the traditional business disciplines such as finance, economics and marketing, the curriculum goes deep into health policy, managing healthcare outcomes, health law and other health-specific areas.
Japp, being new to his position, having started in September, said he was somewhat surprised to find that some CU Anschutz colleagues were unfamiliar with the program, which is accredited by the Commission on Accreditation of Healthcare Management Education and the American Assembly of Collegiate Schools of Business (AACSB).
"We essentially combine the traditional MBA with the traditional MHA programs that are out there," he said. "It's perfect for people on the Anschutz Medical Campus in the research or clinical capacity—anyone who wants to learn more about the business side of health care."
Learn more: An informational session about CU Denver's Executive MBA in Health Administration will be held on the Anschutz Medical Campus from 4:30-5:30 p.m. Dec. 19 in Academic Office Building One, Room 2101. Director of Recruitment and Operations Roger Japp is also available to answer any questions via email—roger.japp@ucdenver.edu—or by phone, 303-623-1888.