STORY
Ethics of digital media to be examined at symposium this weekend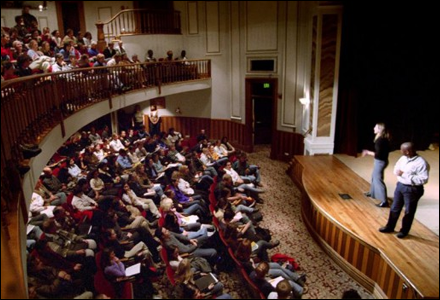 Students, scholars and media professionals will discuss media "in the fast-paced world of digital journalism" at a University of Colorado Boulder symposium Friday and Saturday.
CU-Boulder's Journalism and Mass Communication program will host the conference including two talks that are free and open to the public.
Jay Rosen will give one of the talks at 10 a.m. Friday at the Old Main Chapel. Rosen, who will discuss "The Ethics of Point-of-View Journalism," is a journalism professor at New York University and a media critic. He is an adviser at First Look Media, a new venture featuring the work of Glenn Greenwald, who published the explosive national security documents leaked by former government contractor Edward Snowden. Rosen also writes the blog PressThink.
At 2 p.m. Friday at the Old Main Chapel, Steve Buttry will present "Upholding and Updating Journalism Values." Buttry is the digital transformation editor for Digital First Media. The company operates about 800 multi-platform media products nationally, including several in Colorado. He is a prominent consultant in digital journalism and author of the blog The Buttry Diary.
During other portions of the symposium, participants will explore issues such as the loss of the "ethics support group" found in traditional newsrooms for today's freelancers, developers and entrepreneurs; today's ethics challenges in the journalism work environment; and what the latest research and journalistic practice says about norms and values in the digital age.
"Technology has enabled new forms of public communication that raise new kinds of ethical questions," said Paul Voakes, CU-Boulder professor of journalism and mass communication. "For example: When corrections can be made seamlessly and instantly online, is first-time accuracy now overrated? What are the appropriate journalistic uses of drones? In a profession increasingly populated by developers, activists, entrepreneurs and volunteers, where does a code of ethics fit?"
Excluding the two public talks, symposium participants will work in groups to write brief papers about the issues discussed. The papers could lead to collaborative essays or research projects, according to symposium organizers.
The symposium is supported by the Ethics and Excellence in Journalism Foundation, Colorado State University and the Association for Education in Journalism and Mass Communication.
For more information about CU-Boulder's Journalism and Mass Communication program visit http://journalism.colorado.edu/.