STORY
Employee Services commits to staying accessible during winter renovation project
Offices, meeting spaces undergoing transformation at 1800 Grant St.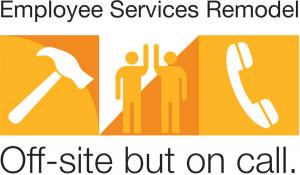 Faculty and staff seeking help regarding their benefits, pay and other employee-focused programs will be well-served this winter, despite a construction project at the CU system building in Denver that will temporarily displace staff within the university's Employee Services department.
The project, estimated to begin in December and run through February 2016, will expand office and meeting space within the department at 1800 Grant St.
While Employee Services currently has two dedicated meeting rooms for any university employee wishing to discuss benefits and pay with a professional, the new floor plan will better accommodate such requests by adding multiple, small conference rooms. The redesigned floor plan also makes more efficient use of the existing space to serve the growing department and its needs for collaboration.
"Employee Services has been behind several high-priority university projects, including Elevate, which will improve the process of paying employees, and the incorporation of Affordable Care Act rules and regulations into our health care offerings," said Lisa Landis, associate vice president of Employee Services. "This new space allows our team to collaborate on these and a whole new slate of projects while we commit to defining and improving how we serve our fellow employees."
Employees may reach benefits and payroll professionals during the renovation project by calling Employee Services at 303-860-4200, and selecting option 2 for payroll or option 3 for benefits. While both teams will be available to meet with employees throughout the span of the project, staff encourages employees to call to schedule on-campus meetings, as space within the CU System building will be limited.
Benefits professionals will be unavailable starting at noon Friday, Nov. 20, as they move to a separate floor within the CU system building. The payroll line will remain open that day, however. Heavy call volumes are expected as Employee Services will be running the last payroll before CU launches upgraded human resources software, Human Capital Management (HCM).
For updates on how Employee Services' relocation may affect you, visit www.cu.edu/es/relocation.