STORY
During forums, leaders talk accomplishments, challenges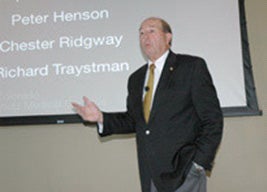 During Fall Forums for faculty, staff and students on Oct. 17 at the Anschutz Medical Campus and Oct. 18 at CU Denver, University of Colorado Denver Chancellor Jerry Wartgow opened his presentation by spotlighting a year of accomplishments and offering perspective on the significance of the university to the city and the state. These accomplishments are not only worthy of celebrating and but give the university community a reason to believe significant milestones are still ahead.
"In spite of these challenging times," said Wartgow, borrowing from the university's branding campaign, "we do have momentum.
"Think of us as a business. We're ranked No. 14 in Colorado for overall economic impact, and as an employer, we rank No. 5 for the jobs we provide."
Wartgow highlighted (presentation materials available here) a number of areas in which the university has seen significant developments including:
ACCREDITATION: The university has been granted full, 10-year accreditation by the Higher Learning Commission of the North Central Association. Wartgow thanked everyone who participated in the effort headed by Provost Rod Nairn.
DISTINGUISHED PROFESSORS: Wartgow called attention to the six faculty recently designated as Distinguished Professors by the Board of Regents, noting that over time, only 67 faculty have been granted this honor. "To have six this year," said Wartgow, "this is significant!" Those honored are:
Wayne Cascio, Ph.D., professor of management at the Business School
Peter deLeon, Ph.D., professor of public policy in the School of Public Affairs
Stephen I. Goodman, M.D., professor of pediatrics in the School of Medicine
Peter M. Henson, Ph.D., professor of pharmacology, immunology and pathology in the School of Medicine
E. Chester Ridgway, M.D., M.A.C.P., professor of endocrinology at the School of Medicine
Richard Traystman, Ph.D., vice chancellor for research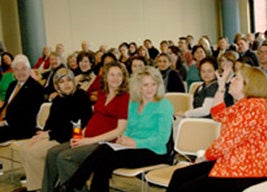 BRANDING: "We have launched an awareness advertising campaign," Wartgow said. "It's on a small scale with a small budget at the outset." Initial placements are on buses, billboards and in the Denver Business Journal, and they revolve around a leadership campaign featuring alumni such as Denver Mayor Michael Hancock; Aurora Mayor Ed Tauer; Chris Urbina of the Colorado Department of Public Health and Environment; Dave Baker, who heads First Bank; and others.
The second phase of the awareness advertising campaign will showcase partnerships including one with Denver Public Schools.
ENROLLMENT: Key priorities for enrollment are diversity and international efforts. "We are a global university with students from 85 countries in 2011," Wartgow said. "The top three countries from which students are coming are China, India and South Korea." The current international student population is 5 percent, with a goal of 10 percent by 2014, Wartgow said.
On other enrollment matters, Wartgow touched on the anticipated increasing pool of returning veterans, partnerships such as the Denver Education Compact with Denver Public Schools, the recently announced CC to CU Denver Admission Promise, and this month's announcement of a national, five-year pilot called the Hispanic School Fund.
SALARY INCREASES: By now many exempt professional staff will have received notice of a 3 percent salary increase after three years of no increases. The chancellor emphasized that efforts are afoot to also provide one-time, bonus-type increases for employees who are part of the state classified system. Questions may be referred to supervisors.
At the Denver Campus Fall Forum, the chancellor also mentioned the upcoming opening of the new Business School location and plans to build a new academic building on the Auraria Campus.
Marks reviews Anschutz Medical Campus property and partnerships
During the Oct. 17 Fall Forum, Vice President for Health Affairs and Executive Vice Chancellor for the Anschutz Medical Campus Lilly Marks gave a high-level recap of the accomplishments during the past 10 years (presentation materials available online).
Because so much more development has occurred at the Anschutz Medical Campus than originally expected, noted Marks, "We're reinvigorating our overall master planning in cooperation with our partners on the campus to look very collaboratively at our needs and options." Those partners include University of Colorado Hospital, Children's Hospital Colorado and the Veterans' Administration Hospital.
With the growth of the campus, Marks said a refined structure for governance with the Fitzsimons Redevelopment Authority is being evaluated.
"We are the University of Colorado Anschutz Medical Campus," noted Marks. New brand university standards provide needed clarity. She added, "There's an effort under way to brand our clinical enterprise, too."
Marks also discussed continuing efforts to respond to the broader demand and changing marketplace in the U.S. for health care professionals as the university also works to find sustainable, stable funding. On a positive note, Marks observed that recent visits to the campus impressed Colorado's U.S. Sen. Michael Bennett and U.S. Commerce Secretary Rebecca Blank.
As we work to adjust to economic realities, said Marks, "We'll need to take new creative approaches." For example, she said, important opportunities exist in biotech transfer and how to manage the intellectual property evolving from the university's research labs.