STORY
Dressler honored as President's Employee of the Year
Four more system administration staff members also recognized at recent event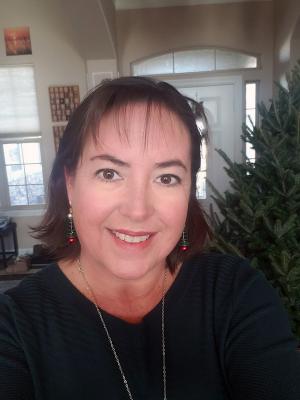 Tara Dressler, director for trademarks in the Office of University Counsel, recently was honored as the 2022 President's Employee of the Year.
Dressler and four other nominees for the award, which is presented by System Staff Council, were recognized during a Dec. 15 ceremony at 1800 Grant St. The event also celebrated system administration employees who reached milestone years of service during the 2022 fiscal year.
Dressler joined CU in 2007, serving as patent administrator and later as IP manager for the Technology Transfer Office. Before coming to the university, she worked as a paralegal in Washington, D.C. Her legal experience has been focused on Intellectual Property. She earned bachelor's degrees from Penn State University and the University of Maryland.
In comments from the nomination and letters of support for the award, Dressler's nominators said:
"Tara has built our trademark operation from the ground up. Handling close to 300 trademark matters across the system, Tara saves the university from engaging outside law firms to provide these services."

"In all my time working with Tara, I have found her to be a positive, proactive team player. She is always quick to respond to requests, has great insight to situations, open to listening to others and finding a middle ground when things are challenging. She represents CU well both internally and externally."

"Tara exemplifies the best of what CU employees have to offer. She is a tireless advocate, a trusted adviser and a genuinely warm and caring person. She is a pleasure to work with and is someone who always can be relied upon to get things done."
Last month's event also recognized other nominees for the President's Employee of the Year Award for going above and beyond in their dedication and service to CU:
Rusty Brunner, Employee Services. "Rusty is an extremely high performer. His expertise, tireless work and customer-focus have significantly elevated the compensation function for system."
Lindsay Cameron, CU System Gift Planning. "Her customer service for both our frontline fundraisers, and the donors we all support, is second-to-none as she carefully and methodically provides best-in-class technical expertise."
Ashley Eschler, Employee Services. "Ashley cares deeply about employees' well-being. She is supportive, understanding, positive, and makes everyone feel welcome and comfortable."
Mayank Mittal, University Information Systems (UIS). "Through this incredibly stressful time, he can still be heard laughing often. He always tries to stay upbeat, look for positive outcomes or compromises in difficult circumstances, and focus on the good."
System administration employees who reached milestone years of service in FY22 also were recognized. They are:
30 years
Linda Money
Carolyn Peet
Alan Vidmar
25 years
Jon Arnold
Jeff Gloyd
Rob Lucas
20 years
Jeremy Hueth
Jonathan Levenstein
Jennifer Mortensen
Mai Ngo
Patricia Paige
Wynn Pericak
Annalissa Philbin
Kirk Walker
15 years
Tiara Dookie
Scott Frey
Karen Ichiba
Angela Sanchez
Kimberly Sethre
Kathleen Sutherland
Jordan Wight
10 years
Natalie Barry
Paul Brodnik
Jose Celis
Karthik Chigururu
Marina Durbin
Patty Durbin
Kevin Emslie Sarsen
Joshua Hernandez
Siva Jaligama
Melanie Jones
Craig Leedholm
Lonnie Maynard
Teresa Meier
Cynthia Pasquale
Kathryn Princo
Paula Ramirez
Kaylee Rowe
Stephanie Sheldon
Laura Siedzick
Yuko Stossel
Sasi Sunkari
Soumya Suresh
Lili Xu
5 Years
Lara Ackerman
Adwoa Adu-Tutu
Siegfried Appelt
Jana Banchetti
Talisha Bell
Sharon Bishop
Allen Buchanan
James Carrington
Rian Cheley
Charles Cook
Matt Devlin
Crystal Dicino
Anne Duquennois
Erika Durbin
Stacy Eatinger
Richard Escamilla
Joyce Gamboa
Danielle Gauna
Jackie Hess
Laura Isacco
Rachel Kammen
Krystal Knutson
Juan Loa
Aaron Phillips
Anthony Salazar
Rita Samaddar
Kimberly Spiering
Bob Sudo
Jeff Tandberg
Miranda Wall
Diane Wiederspahn
Al Wirtes
Angela Young