STORY
Diversity and Inclusion Summit: 'Taking the Next Step'
CU-Boulder hosting combined campus, system event next week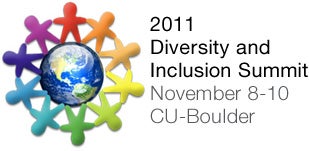 The University of Colorado Boulder and CU system's annual Diversity and Inclusion Summit will be hosted on the Boulder campus Nov. 8-10. The summit features a variety of sessions for students, faculty, staff and community members.
Following the 2011 theme "Taking the Next Step," the summit has expanded its collaborators to offer new programming and presenters. Not only is the city of Boulder a partner in this year's event, the University of Colorado System Diversity Summit is being held in conjunction with the annual CU-Boulder event.
"The University of Colorado addresses diversity and inclusion at every level, on every campus," said conference organizer Alphonse Keasley, CU-Boulder's assistant vice chancellor for campus climate and community engagement. "We rotate a systemwide diversity summit through our campuses; for this year we have combined the two programs to yield an even greater depth of discussion and variety of viewpoints. We are pleased we can broaden the conversation and provide context for 'Taking the Next Step.' "
Reflecting the systemwide approach, this year's opening keynote is "Making Excellence Inclusive: The Bolder Imperative for the CU System and Communities," presented by Alma R. Clayton-Pedersen, senior fellow at the American Association of Colleges and Universities. Clayton-Pedersen's talk will discuss the challenge for higher education to become much bolder in addressing the root causes of persistent inequities, which are currently addressed through legislation and the legal infrastructure.
The opening session for the summit is at 8:45 a.m. Nov. 8 in the Glenn Miller Ballroom at the University Memorial Center, with the keynote directly following at 9:15 a.m.
Plenary sessions during this year's summit include:
2 p.m. Nov. 8, UMC Glenn Miller Ballroom.
"Taking the Next Step: Appreciative Leadership Practices for Whole-Scale Inclusion" presented by Amanda Trosten-Bloom, managing director for the Corporation for Positive Change.
9 a.m. Nov. 9, UMC Glenn Miller Ballroom.
"Bringing in Privilege and Intersectionality: The Next Step to Advancing Conversations About Diversity and Inclusion" presented by Abby Ferber, director of the Matrix Center for the Advancement
of Social Equity and Inclusion at the University of Colorado Colorado Springs.
All events are free and open to the public. The educational and exploratory sessions highlight the research, talents and insights of faculty, students, and staff and offer a view of diversity beyond the most common definitions. The event is hosted by the CU-Boulder Office of Diversity, Equity and Community Engagement, the CU System Diversity Office, the Chancellor's Advisory Committees and the city of Boulder.
Before attending a session, CU employees may check in at the summit desk in the Glenn Miller Ballroom to have their attendance recorded. Many campus departments will accept diversity summit attendance as a diversity training requirement and participants who attend one event of each session type will receive a certificate of achievement.
A complete schedule of diversity summit events is available here.